Water of sufficient quantity and quality for Texas and for Texans is of the utmost importance.  This includes water for people, for energy, for agriculture, for the environment, and for the economy.  As outlined in the State Water Plan (TWDB, 2012), there is a clear need for investment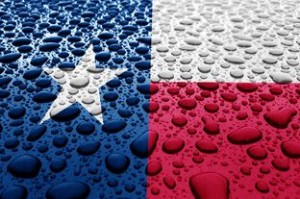 in water infrastructure – both for water conservation and for the development of new sources of water. This investment is considerable, with capital costs of the water development strategies estimated at $53 billion over the next50 years.  Beyond these infrastructure costs, there is also a need to gather the best data and to develop the best science to determine: (1) the processes that affect the distribution of water in the state today and for the 21st century, (2) the technologies for increasing our water supply or decreasing or water demand; and (3) how the growth of Texas' population, economy, and energy requirements will impact Texas water.
The UT Environmental Science Institute is leading an effort, along with numerous partners, to better understand and to address the grand challenges of water availability in Texas, for today and for the future.
This effort is supported by the Cynthia and George Mitchell Foundation and the National Science Foundation.
Mission statement
Our mission is to facilitate:
1. collaborative scientific research on the nexus of changing water availability and rapidly growing urban corridors; and
2. collaboration and communication linking science and policy to advance Texas water resilience.
The Texas Water Research Network provides a forum and encouragement for research about water science, management, and policy. Solutions to Texas' water challenges will be addressed through new knowledge, innovative approaches, as well as through the synthesis of existing knowledge. This is of special significance for Texas water challenges related to the rapid population growth and projected changing water availability in the state in the 21st Century.
Texas Water Research Network Meeting  May 8 – 9, 2017
The Texas Water Research Network's fourth meeting will take place at the Texas Advanced Computing Center on the Pickle Research Campus on May 8th and 9th, 2017.
More information can be found in the agenda and the meeting notes.
Meeting goals:
Establish and advance relationships between researchers
Explore the science of communication relating to interdisciplinary research and stakeholder interactions
Explore issues of importance to water policy makers and managers
Learn about shale development implications on water
Conversations:
Implications of shale development on Texas water
Danny Reible, Texas Tech University, NAE
Dan Mueller, Environmental Defense Fund
Jean-Philippe Nicot, UT Austin Bureau of Economic Geology
What's important to policy makers and water managers
Carlos Rubinstein, RSAH2O (former TWDB chair, and TCEQ commissioner)
Ken Kramer, Sierra Club
Robert Puente, President/CEO of SAWS, former chair, House NRes
Science of communicating between researchers, with stakeholders
Katherine Hayhoe, Texas Tech University, Climate Science Center director
 Bob Duke, University of Texas at Austin, Two Guys on Your Head
Texas Water Research Network Meeting  August 18 – 19, 2016
The Texas Water Research Network third meeting convened  August 18th and continued into the afternoon of the 19th  (Agenda). This meeting explored Research and Research Networks in Three Water-Stressed Regions as templates for building both a better network and better research.  Three guests with experience in organizing water research networks and in research on water in arid environments joined us and shared their expertise:
Jay Famiglietti with NASA Jet Propulsion Laboratory, Connecting Research and Decision Making during the California Drought: Many Challenges, Some Successes: Video
Todd Halihan from Oklahoma State University, The Future of Water: Will Our Data Beat Our Instincts?: Video
Kelli Larson from Arizona State University, Collaborative Water Research in Phoenix, AZ: Insights from Science-Policy Interaction: Video
Additionally, Marilu Hastings, Vice President, Sustainability Programs of the Cynthia and George Mitchell Foundation spoke on Funding Context and Opportunities for the network.
Network participants worked on exercises to aid in understanding and employing the linkages that encompass the Texas WRN's research goals.
The meeting was held at the new Texas Advanced Computing Center on the J. J. Pickle Research Campus of The University of Texas at Austin, approximately 9 miles north of the main UT campus.
Meeting notes are available here.
Previous Meetings and Work Products
A kickoff meeting was held on the UT campus on May 20th, 2015 with almost 30 researchers in attendance representing universities in Austin, Houston, Lubbock, San Antonio, College Station, El Paso, San Marcos, and Brownsville.  The agenda  and notes from the meeting are available here:
Participant agenda (May 20, 2015).
Notes of May 20, 2015 meeting.
A follow-on meeting was held December 3-4, 2015 with 33 researchers and guests in attendance.  Documents from the meeting are available here:
Presentations (forthcoming)
NSF Research Project – The New 100th Meridian: Urban Water Resiliency in a Climatic and Demographic Hot Spot
The UT-Austin Environmental Science Institute was recently awarded a five-year, $500,000 grant from the National Science Foundation's Coupled Natural and Human Systems program for a research project on "The New 100th Meridian: Urban Water Resiliency in a Climatic and Demographic Hot Spot."  The grant runs from 2015 through 2020 and includes Principal Investigators from UT-Austin (Jay Banner in Geological Sciences and Suzanne Pierce at the Texas Advanced Computing Center), Texas A&M (Kevin Wagner of the Texas Water Resources Institute and Dept. of Soil and Crop Sciences), Texas Tech (Venkatesh Uddameri of the Water Resources Center and Dept. of Civil, Environmental, and Construction Engineering), and UT-San Antonio (Lloyd Potter, of the College of Public Policy and the Texas State Demographer).
The interdisciplinary project team includes 41 faculty total from 15 universities in Texas and beyond, along with stakeholders from diverse backgrounds and interests – agriculture, water policy, science and engineering, climatology, demography, urban planning, energy, decision support, socioeconomics, land use-land cover, and hydrology.
The project seeks to develop:
Regional climate projections and mechanisms, including assessing regional climate projections from global models and downscaled dynamical–statistical models;
21st century scenarios of population, urbanization, climate change, and flow regulation impacts on hydrology and water availability; and
An understanding of impacts on stakeholders.
For more details, check out the project abstract:
John Wesley Powell, famed American explorer and second U.S. Geological Survey director, popularized the 100th Meridian as the climatic boundary between the humid east and the semi-arid west – the geographic origin of the western United States (Powell 1879). There is good agreement among climate models indicating a warmer and probable drier future for Texas. As such, the transitional boundary between the humid east and semiarid west is shifting eastward from the 100th Meridian. The major cities of San Antonio, Austin, Dallas, Fort Worth, and the Rio Grande Valley are located just east of the 100th Meridian, and rank among the fastest growing regions in the U.S. The state is projected to double in population by the year 2065. The central Texas corridor's position near the climatic boundary makes it particularly sensitive to changes in temperature and precipitation. Couple climate change with rapid population and economic growth, and man-made forces become an important driver of future urban and rural water scarcity throughout the state. It is because of these twin drivers of climate change and population/economic growth that the central Texas corridor can be viewed as a "sentinel community"; that is, the changes that are currently underway in the region may predict trends for other parts of the U.S. Thus, research will be conducted on climate, population, urbanization and water resources in this region, as it is a valuable proving ground for new techniques and strategies to address water scarcity.
The research comprises: 1) Identifying the Grand Challenges for understanding Texas water resiliency; 2) comparison of 21st century climate model projections at high spatial resolution and improving our understanding of the mechanisms that drive drought in Texas; 3) development of scenarios of demographic changes and regional development for the 21st century in Texas; and 4) integration of the above into a regional evaluation of future water resiliency for the state. New research activities will bring together researchers from complementary disciplines to 1) initiate collaborations, 2) synthesize research, and 3) leverage resources from ongoing and future research activities. The overarching goal is to build knowledge regarding the factors that will impact future water resiliency in the rapidly changing human and natural systems of Texas, which will have applicability to other regions for which significant population growth and changing water availability are projected.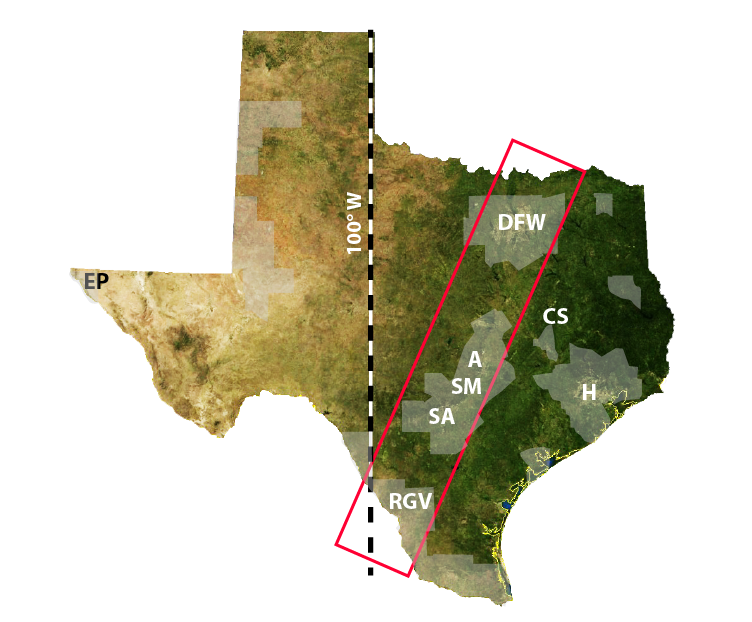 Map of Texas showing the study area outlined in red, counties with more than 50% projected population growth (2010-2050) in gray (Potter and Hoque 2013) and population centers (A, Austin; CS, College Station; DFW, Dallas-Fort Worth; EP, El Paso; H, Houston and Rio Grande Valley, RGV. The 100th Meridian (dashed line) bisects the state near the western edge of transition between the humid east and the arid west (Powell 1879).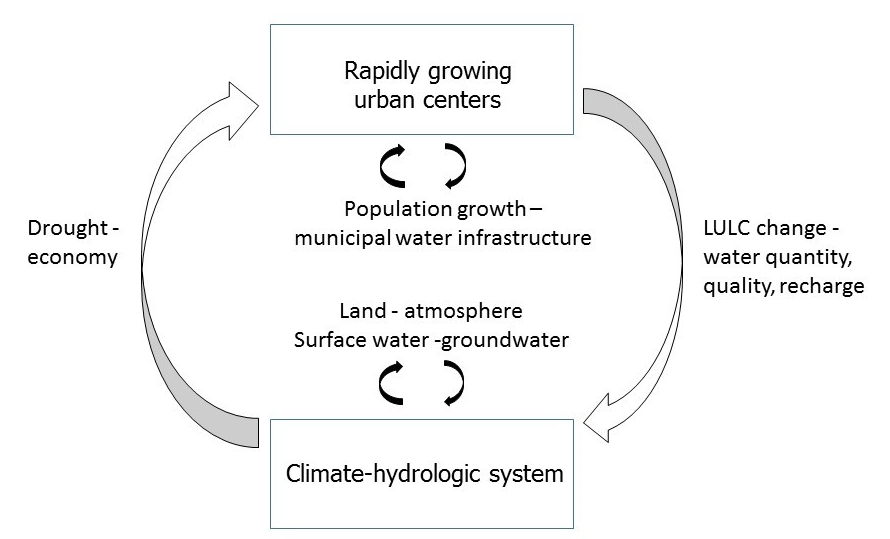 Relationship between natural system (Climate-hydrologic system) and human system (Rapidly growing urban centers), and selected examples of couplings within (solid arrows) and between (unfilled arrows) these systems. LULC = Land use – land cover.