History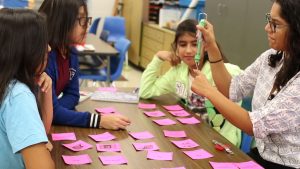 The Scientist in Residence program was an initiative of the GK-12 Program. Funded by a grant from the National Science Foundation from 2002-2011, the program provided K-12 teachers and students with innovative activities in biology, chemistry, environmental science, aquatic science, geology, meteorology, and oceanography aligned to state standards.
The original GK-12 program helped develop a broader pool of competent science learners through long-lasting partnerships between K-12 teachers and academic researchers and enhanced teacher professional development through the direct involvement of graduate students in K-12 classrooms.
The program also helped graduate students contribute to the development of scientists with improved communications skills, knowledge of pedagogy, an awareness of existing science education standards, and the desire to continue their involvement in K-12 education no matter their future career paths.
The GK-12 Program officially concluded at the end of the 2010-2011 academic year. The program was then relaunched as Scientist in Residence.