How to Find and Contact ESI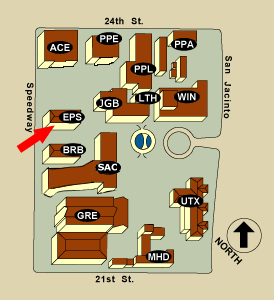 ESI is located in the heart of the UT Austin Campus, in the E.P. Schoch (EPS) building, between the Jackson School of Geosciences (JGB) and Speedway, right near the William C. Powers Student Activity Center (WCP). You can also take a look at ESI's location on Google Maps. ESI's offices are located on the third floor of EPS in Suite 3.102A.
ESI is open Monday through Friday from 8:00 a.m. – 5:00 p.m. We are closed on all University holidays.
A map of the full UT campus is available here.
Phone: (512) 471-5847
Fax: (512) 232-1913
For general inquiries, please email us at esi@esi.utexas.edu
Mailing Address: The Environmental Science Institute, The University of Texas at Austin, 2275 Speedway, Mail Code C9000, Austin, TX 78712