EVS Professional Preparation
During their final year at the university, EVS students reunite with their peers from their early hands-on coursework as they complete a year-long professional development sequence that helps students maintain their success beyond graduation. This training is complemented by the student's Capstone Research Experience.
Professional Development for Environmental Scientists (EVS 141)
In the fall of their final year at UT, EVS students complete EVS 141, which helps them transition from their undergraduate studies to the next step on their professional journey by: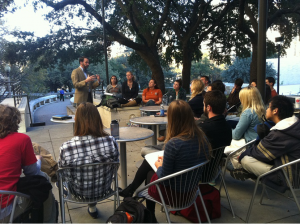 Exploring the nature and possibility of future graduate study and research, with informal Q&A sessions with current and former UT Austin graduate students;
Practicing job search skills, including interviewing, resume preparation, and employer research; and
Encouraging them to engage in Intellectual Entrepreneurship by taking ownership of their academic and professional careers.
This approach helps students settle on their post-graduation plans and connects them with professionals who are able to provide informal mentorships and practical career and job search suggestions.
Professional Communication for Environmental Scientists (EVS 151)
In the spring of their final year at UT, EVS students complete EVS 151, in which they hone their communication skills by learning how to effectively convey their scientific research process and results to a variety of audiences through a variety of channels. Class participation and practical exercises are emphasized. Topics include:
Describing your research to a scientific audience and the proper construction of a research abstract;
The story of your research: storyboarding and the importance of effective research narratives; and
Informing policy through research, including societal support for scientific research.
At the conclusion of the class and upon graduation, these EVS students will be well-positioned to serve as ambassadors for their particular area of scientific expertise – able to articulate its process and importance to audiences ranging from friends and family to the National Science Foundation.