The Hot Science – Cool Talks Outreach Series brings leading scientists and their research to you! They are much more than just lectures, featuring engaging activities for multiple age groups and professional development opportunities for teachers.  Learn more…
Two Guys on Your Head on "If It's Unsustainable, Why Does It Feel So Good?"
August 28, 2015
with Dr. Art Markman, Dr. Bob Duke, and Rebecca McInroy
What is it about human behavior that causes us to ignore the realities of our changing environment and other aspects of sustainability that affect our lives?
How does the brain work when it comes to understanding what is happening in the world around us?
---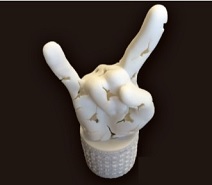 The Future of 3D Printing: The Democratization of Design
October 16, 2015
with Dr. Carolyn Seepersad
3D printing is capturing the imagination of makers, futurists, and scientists everywhere. It is already changing industry, as well as the capabilites of DIY makers. How does 3D printing work?
Have we entered a new industrial revolution? What is the future of 3D printing, and how will it impact our lives?
---
Humanoids of Our Future
December 4, 2015
with Dr. Luis Sentis
Robots have become increasingly more humanlike as technology advances. Why do we build humanoid robots, and what can they do? Can robots have emotions or a sense of humor?
How "human" can they actually be?
---
Support for Hot Science – Cool Talks has been provided by

---