UT Science Meets Society Seminar Series
New discoveries are made every day at The University of Texas at Austin.  Some of these discoveries come from basic research and will have their value fully realized years to decades down the road.  Other discoveries, however, have immediate impact on society – potentially saving and improving lives, saving and improving the planet.  This seminar series, founded in Fall 2015, seeks to explore such discoveries –  interdisciplinary issues, primarily focusing on Water, Energy, and the Environment.   This is accomplished via consideration of both the technical scientific and engineering discoveries taking place across campus, as well as the social, political, and economic implications.
This series was created by Sheila Olmstead (LBJ School of Public Affairs) and Charlie Werth (Dept. of Civil, Architectural, and Environmental Engineering) and is sponsored by the UT Environmental Science Institute.
Fall 2015
The Wimberley floods: What can we do to better predict and prepare for similar events in central Texas
November 9 (Monday), 4-5:15 pm, Bass Auditorium in the LBJ School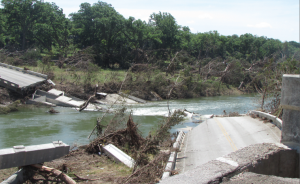 The Wimberley flooding has caught everyone by surprise.  Earlier this year, rains originating in Blanco, Texas, resulted in flash flooding more than 30 miles downstream in Wimberley.  320 homes were destroyed, an equal number incurred major damage, and 12 lives were lost.  More recently, rainfall in Wimberley caused additional flooding.  Dr. David Maidment, in the Center for Research in Water Resources at UT Austin, is developing flood forecasting tools that provide more rapid and accurate prediction of extreme flood events in central Texas. He is working with Mr. Harry Evans, former Chief of Staff for the Austin Fire Department, to identify more effective early warning and flood response mapping.  Dr. Calvin Streeter, in the School of Social Work at UT Austin, has been at the forefront of developing new theories for community dynamics and organization in the face of such disasters.  This seminar is a novel and integrated presentation from these three leading experts on how to better predict and prepare for extreme flooding events in central Texas.  The seminar will be opened by the City Administrator of Wimberley, Don Ferguson, who will talk about the devastating effects of the flooding and the overwhelming community response.
Poster: Wimberley Flood poster
Audio Recording: https://www.youtube.com/watch?v=voJ_pfiKNiE
Slides: Ferguson_Wimberley Strong. 11.9.15, Maidment_Evans_Streeter_Wimberley
Media Coverage
KUT: http://kut.org/post/ut-researchers-collaborate-new-real-time-flood-forecasting-system
Daily Texan: http://www.dailytexanonline.com/2015/11/09/seminar-discusses-emergency-preparedness-improvements-after-may-wimberley-floods
Austin American-Statesman: http://www.mystatesman.com/news/weather/souped-up-flooding-forecast-system-to-help-central/npHnq/
Time Warner Cable News: http://www.twcnews.com/tx/austin/news/2015/11/15/ut-hosts-a-flooding-seminar.html