The Scientist in Residence Program benefits graduate students by providing financial support and valuable exposure in the fields of K-12 education and public outreach. Fellows are paired with science teachers from local area independent school districts and are charged with the task of inspiring our next generation of scientists. Teacher-fellow teams are encouraged to develop innovative teaching strategies and challenge conventional education practices. Many participants have presented these novel strategies as publications at national meetings. Lastly, as a participant of this program, fellows are provided with innovative training, which includes a seminar course on pedagogy and science communication led by Dr. Jay Banner and Robert Duke.
What are unique opportunities for graduate students in SciRes?
SciRes provides hands-on experience to inspire the next generation of scientists.
For master's and doctoral students already supported on an RA or TA, SciRes offers a minimal time commitment experience (3 hours per week) and an additional stipend.
Participants are provided with innovative training, including a graduate seminar on Science Communication led by professors Bob Duke and Jay Banner.
Teacher-graduate student teams develop innovative teaching strategies; participants have published on their novel results.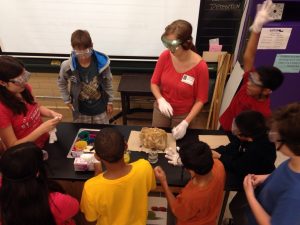 What graduate students are saying about their SciRes experience
"The program has helped me improve my science communication skills, it is nice to see that I've made a positive impact on the kids." Stavana Strutz, Ph.D. candidate in the Ecology, Evolution, and Behavior
"It has been a good opportunity to meet students and to improve my teaching skills." Peter Carlson, fourth year as a Ph.D. student in the Jackson School of Geosciences
"This was a fantastic experience, a great opportunity to share my love of science and hopefully inspire students to look at science differently." James Brewster, second year Ph.D. student in organic synthesis and supramolecular chemistry
"I absolutely LOVED working with my teacher! Thanks for a great semester, I had so much fun!" Christine Bonthius, third-year Ph.D. student in the Department of Geography & the Environment.
How to apply
The SciRes Program is on hiatus for the 2020-2021 academic year. Please look for the application in the summer of 2021.  If you have questions concerning the Scientist in Residence program please contact us at esi@esi.utexas.edu.