Sierra Ehlers
Biology Track, Class of 2019
During her first year at UT, Sierra took an impromptu backpacking trip to New Mexico and hiked through the Sierra Blanca mountain range. The trip was physically and mentally challenging, but after it ended she couldn't help but ask herself, "how can someone not want to conserve something this beautiful?"
Sierra decided to be a part of the EVS Biology Track for that reason and for her love of life science. "The evolutionary processes that have gotten our planet to where it is are fascinating–and I want to protect that." Sierra recognizes the beauty and necessity of our environment and wants to devote her life to protecting it.
At UT, Sierra has been involved with Alpha Phi Omega (APO), a well-known service organization devoted to improving the university. She has also been a part of the University Leadership Network (ULN) and worked at UT Microfarm as a Fertilizing and Pest Control Intern.  She is a course assistant for the Introduction to Biology II Class, facilitating discussion for students and helping them with class work and studying. Sierra also worked in Dr. Larry Gilbert's lab at Brackenridge Field Lab, working to collect and grow caterpillars for butterfly research.
EVS has been vital to Sierra and realizing her passion. Events like Hot Science – Cool Talks and courses like EVS 311 have confirmed for her that she is on the right track. Her classes are teaching her the skills she will need to succeed in her field of interest and how to appropriately communicate her passion and her research. Her advice to those also interested in pursuing environmental science is to get ready to "seek out your specific passion and really focus on it…to have the greatest impact in this field, you need to know yourself and your passion and be able to effectively communicate it to others."
For her Capstone Project, Sierra is studying environmental inequities in Austin by assessing food deserts and food swamps. She wants to examine the complexity of food systems and food insecurity in Austin, collecting data on food bank locations and fresh produce availability, as well as trends of success for  food sustainability initiatives from Austin's Office of Sustainability and Austin's Food Policy Manager.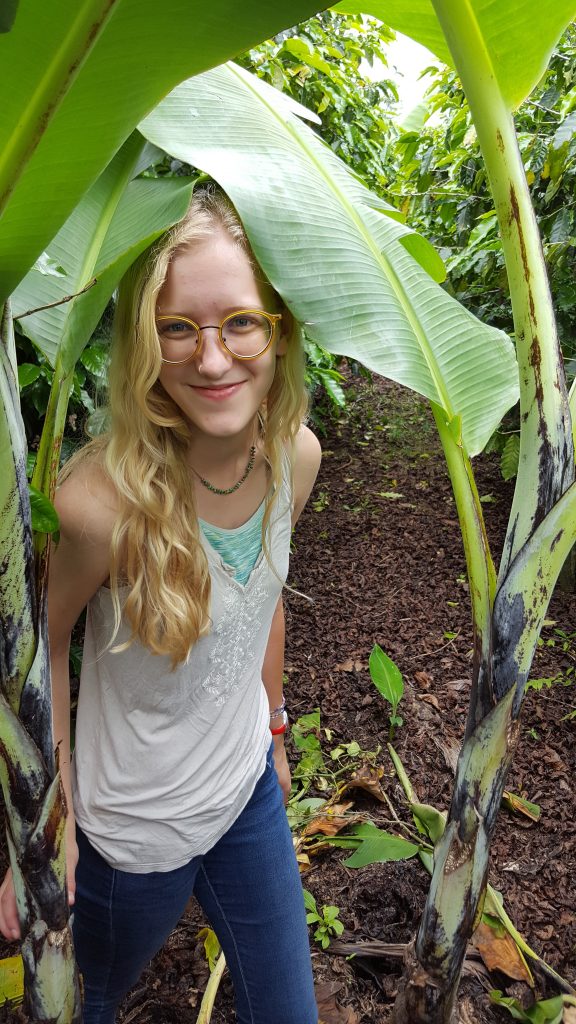 She is also a peer mentor for the UT Freshman Research Initiative (FRI) Biodiversity Stream. Within the stream, she mentors freshmen in their lab work and also is working on a salamander species identification project. She loves mentoring the students to develop relationships with them and help foster their ideas in biodiversity research and to help them gain confidence in the sciences.
In Summer of 2017, Sierra went to Costa Rica as part of a study abroad where she learned about land use issues. "Getting to work in the actual rainforest cannot be paralleled to any other research experience…being in the field was a challenge in the most positive way, I was constantly asking myself why things worked they way that they did." Being there was an invaluable experience for Sierra, and interacting with the people of Costa Rica showed her how vital the relationship with nature that people have is. "Regardless of education, everyone was so innately aware of how important the environment is, and so aware of the essential role of every organism."
After she graduates, Sierra wants to go to graduate school to study ecology, evolution and behavior and do research in the tropics. She is interested in conservation planning and land management. The environment has already given her so much and she is ready to give back.
---
Interested in becoming part of the EVS cohort? Students not yet enrolled at UT should apply for admission to EVS when they apply to UT. Applications for EVS admission from current UT students are accepted each spring for the following fall. For more information on the EVS Program, please take a look at our frequently asked questions page or just browse this site.