Nayoung Hur
Geology Track, Class of 2019
"Realizing that people do not have access to clean drinking water really sparked my interest in geology." Nayoung knew from an early age that she was interested in the environment, travelling and camping with her family throughout her childhood. But it was about three years ago on a trip where Nayoung saw people without access to clean water that she really decided to pursue a career as an environmental scientist so that she can fight the battle for clean water hands on.
Nayoung grew up as a huge rock fan; she had her own rock collection. She's always loved rocks, but when she came into UT she didn't realize she could make a career out of it. She began as a Corporate Communication major, and applied into the EVS program after her first semester to pursue a double major with the EVS Geology Track.
Nayoung enjoys the EVS major because of how close knit it is. She is guaranteed to know a lot of the faces in her classes, something that most majors can't say. The interdisciplinary approach of the EVS program allows for Nayoung to learn more about the environment with biology and geography perspectives from her classes and peers. Getting hands on experience in the field through EVS, and furthermore in geology, has made her more confident in her decisions and more sure of her career path. She is excited to be able to incorporate her communications major with her science degree so that she can provide useful HR/PR skills to her skillset in the science community and ultimately effectively communicate her own research to the general public.
Currently, she is doing research with Dr. Jay Banner's research group. A few times a month she goes out to different Texas cave sites to monitor drip water, air, and calcite growth. All this for paleoclimatology and hydrogeology research, using speleothem and water data. Taking the class Sedimentary Rocks has made her want to investigate geomorphology – determine how water and sediment interactions shape a landscape. She is interested in relating this to caves to understand the relationship between surface processes and caves with a geomorphic lens.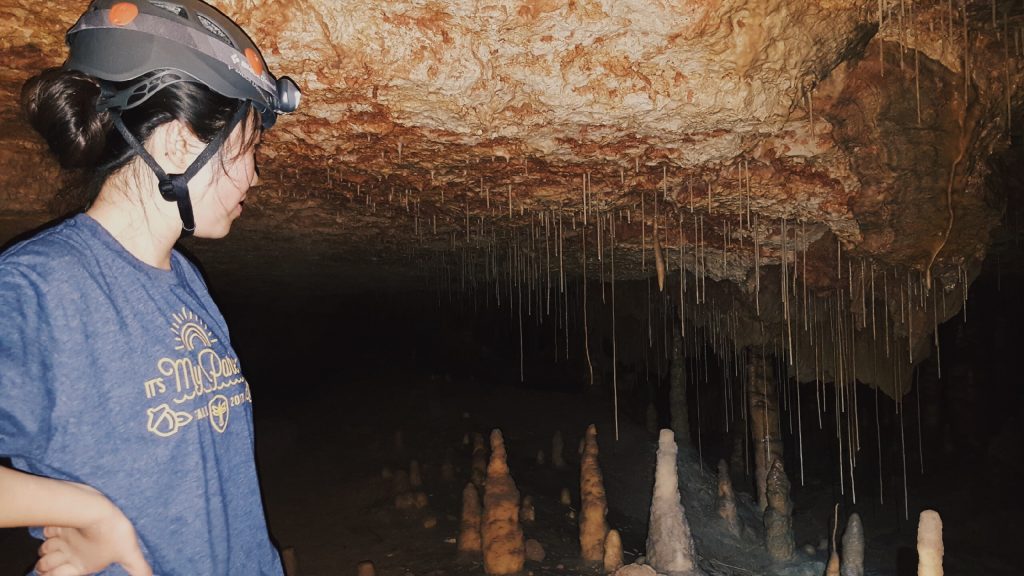 On campus, Nayoung is involved in a variety of clubs. She is a part of the education and outreach team of the Campus Environmental Center. She aids in hosting different events and workshops to help others (the UT community and the public) become more environmentally conscious. She is also a part of the Undergraduate Geological Society. This club focuses on expanding the interest of geology not only to those within the Jackson School, but also to those outside of geology by hosting professional research presentations and other social events. Additionally, Nayoung is a part of Mount Nebo Austin, an organization that provides mentorship to children in underprivileged communities in Austin. Nayoung serves as a mentor and is a part of organization's marketing/graphic design team.
After she graduates, she would like to attend graduate school for hydrogeology and then work as a hydrogeologist. Nayoung has the goal to "make clean, potable water accessible to our population" and provide sustainable water resources, both locally and globally. She firmly believes that the start to good health is clean water, and by providing people water, we can mitigate major public health issues which are most commonly related to water-borne issues.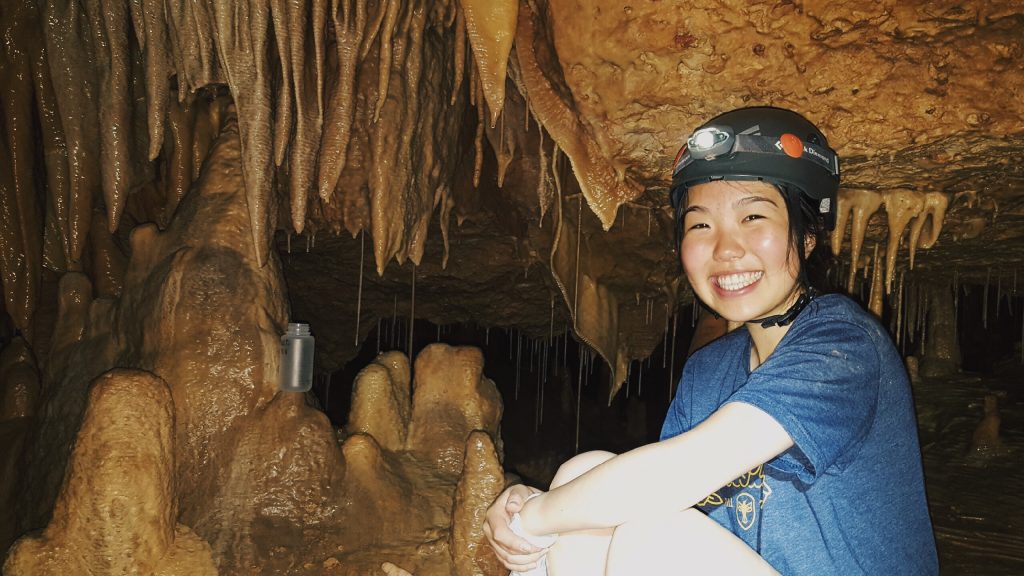 ---
Interested in becoming part of the EVS cohort? Students not yet enrolled at UT should apply for admission to EVS when they apply to UT. Applications for EVS admission from current UT students are accepted each spring for the following fall. For more information on the EVS Program, please take a look at our frequently asked questions page or just browse this site.