Emily Mixon
Geography Track, Class of 2015
Emily has many fond memories of family vacations to national parks. "I've never been to Disneyland, but I have been the Grand Canyon three times." Despite her appreciation for nature, it wasn't her first choice to study in college.
Emily didn't want to come to UT. "I didn't want to go to a giant school with a bunch of jocks." But she found the smaller Plan II program and focused on paleo-anthropology in a lab on-campus. At the end of her first year, she went to Costa Rica on a Maymester Program. There she developed an interest in physical geography and decided to add a second major.
In her fourth year, she became interested in the opportunities to study the intersection of climate change, law, science and policy offered in the EVS program. "It was hard to figure out how to become an EVS major this late in the game. I had to go back and take entry-level science classes and learn new studying techniques while balancing leadership roles on-campus and watching my friends graduate."
What made the process easier was that she knew what she wanted out of the EVS program. "While bouncing around, I fell in love with research. UT is kind of a big deal, there was always someone to go to for top-tier research in any field I was interested in."
Emily is the recipient of the 2015 Air and Waste Management Association Scholarship. She was also awarded for a Plan II model thesis and as a Plan II distinguished graduate. Emily was a Fulbright Scholar in the summer of 2012 and was on the Dean's list in the College of Liberal Arts in every eligible year of her time at UT.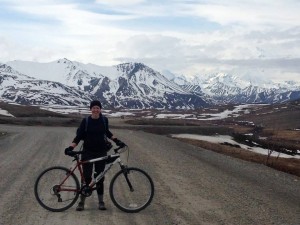 After completing the EVS degree, Emily went on to work for the Austin-based environmental group ACI consulting. She is now pursuing Geosciences graduate school as an MS/PhD student at the University of Wisconsin-Madison.
---
Interested in becoming part of the EVS cohort? Students not yet enrolled at UT should apply for admission to EVS when they apply to UT. Applications for EVS admission from current UT students are accepted each spring for the following fall. For more information on the EVS Program, please take a look at our frequently asked questions page or just browse this site.