Barbara Wortham
Geology Track, Class of 2013
"Environmental Science has let me travel all over the world. I never thought I would be exploring caves in Brazil or Spain."
Barbara Wortham graduated from the University of Texas at Austin with a Bachelor of Science in Environmental Sciences, Geological Sciences Track. Her interest in the environment began as a child when Texas experienced difficult droughts that made her really consider how we are impacted by the environment. She transferred into the Environmental Science program and was a part of one of the earliest UT EVS graduating classes. She was a part of EVS 311 Introductory Field Seminar course while it was taught by Dr. Jay Banner. She chose to be a part of the Geological Sciences Track in EVS because of the undergraduate research that she began doing under Dr. Banner. She studied detrital thorium in caves, working to improve stalagmite dating methods. Simplified, Barbara placed glass plates under calcite drips to test for thorium concentration, which allowed her to date the age of the stalagmite based on the concentration. This research, which was her EVS Capstone Project, has now brought her back to UT to be finished with the potential to be published.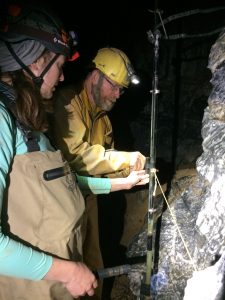 While on the UT campus as an undergraduate, Barbara was a peer academic counselor in the College of Liberal Arts and interned with the Texas Commission on Environmental Quality (TCEQ) and CDM Smith Consulting. Her favorite part about being in EVS was getting to spend a lot of time with other EVS students who all had very diverse interests, but were still in the same program.
After graduating, Barbara headed to Boston College to get her Master's Degree in Environmental Science in the Department of Earth and Physical Sciences, studying under Dr. Corinne Wong. They studied cave systems in Brazil, looking at monsoon impact in South and Central Brazil. Now she is working on her PhD at The University of California at Davis. She is currently monitoring two caves in the Western Sierra Nevada for signatures of immediate impact from drought while trying to use novel techniques from the glaciation about 20,000 years ago. Her field work has taken her to Spain, Germany, Vienna and Brazil. She has helped FEMA to better understand the impacts of wildfires in the Austin area and has explored caves in Spain.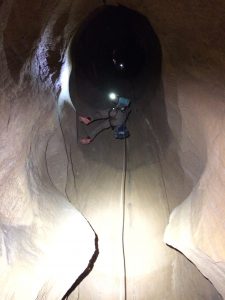 Barbara would like to become a professor at a research institution and conduct more research related to how mountain building influences drought dynamics, specifically how the Caucus Mountains in Georgia and how they influence weather. Her advice for burgeoning environmental scientists is to "say yes to all opportunities—even if they seem overwhelming. Classes are important, but don't let grades scare you from engaging in outside research or extracurricular that will give you experience in the field and give you a better chance at getting the job you want earlier in your career. Austin is a great place to do internships—take advantage of that opportunity. Also more attention should be focused on the statistics courses in the EVS program as any published research will include a lot of it."
More information about Barbara can be found on her website.
---
Interested in becoming part of the EVS cohort? Students not yet enrolled at UT should apply for admission to EVS when they apply to UT. Applications for EVS admission from current UT students are accepted each spring for the following fall. For more information on the EVS Program, please take a look at our frequently asked questions page or just browse this site.