The Woodlands, TX
Geography Track, Class of 2016
Leah became interested in environmental science in high school. The opportunities for research led Leah to choose to study in the EVS program. "The field classes and early introduction to the scientific method felt right. UT enables you to supplement your education through research and EVS gave me the flexibility to pursue my interests."
As a freshman, Leah decided to embark on a life-changing experience by joining Texas 4000. After two years of preparation, she and seventy other UT students biked from Austin to Alaska to raise awareness for cancer research. "We provided hope and created a ripple in the communities we visited. It made me a better person and provided me a source of inspiration to build a better future."
Following the ride, she channeled her passion for people into the UTeach program, spending a semester teaching math to elementary school students, but something else caught her attention. She noticed how her students' environment was affecting their health and ability to participate.
She has always had an interest in public health and improving quality of life. "EVS has provided me a strong foundation in science and has allowed me to explore how the environment influences our health." Leah used her geographic information systems (GIS) skills, developed in her EVS courses, to study how medical resources could be effectively allocated in Senegal. "I like how GIS allows you to use a computer to help communities on the ground."
Leah is pursuing a career in occupational therapy and would like to participate in autism research in the future. "I hope to encourage a generation of people to change how they view themselves and their daily lives; to encourage people to live a sustainable life."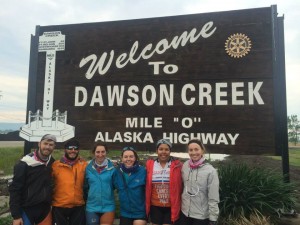 Leah was a recipient of a Green Fee grant to study water use at the UT MicroFarm and made the Dean's Honor List in the College of Liberal Arts in the spring of 2015.
---
Interested in becoming part of the EVS cohort? Students not yet enrolled at UT-Austin should apply for admission to EVS when they apply to UT. Applications for EVS admission from current UT students are accepted each spring for the following fall. For more information on the EVS Program, please take a look at our frequently asked questions page or just browse this site.