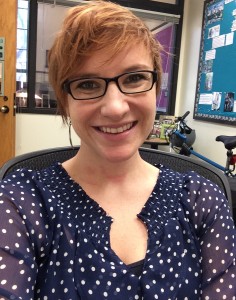 Though a native Texan, Sarah chose to go to college and grad school out of state at the University of Missouri (Mizzou-RAH!). She finished her master's degree in counseling psychology in 2010, and moved to Austin to start academic advising shortly after. Since joining UT Austin, she has worked with a wide range of students through the School of Undergraduate Studies and then the Department of Economics. Additionally, she is really involved with professional advising organizations on campus; this year, she is the president of the UT Academic Counselors Association. This means she is able to stay up to date on campus issues and connect with fellow advisors on a regular basis, allowing her to better help students!
Sarah is so excited to get to know the EVS students, staff, faculty, and programs over the coming semester. She has a lot to figure out in this position, and anticipates she'll be doing a lot of listening and learning during the first few months. Ultimately, she hopes to understand the needs of the EVS students and connect with the ESI staff to address them. Coming from a counseling background, Sarah think it's important to bring empathy, encouragement, humor, and lots of knowledge of campus resources to all of her advising sessions.
Fun facts about Sarah: one of her favorite roles in life is being an auntie to two darling nephews and one amazing niece (who she refers to as "my niblets," because there needs to be a gender neutral plural word for "nieces and nephews"). You'll see adorable photos of them in her office once she gets settled – feel free to ask for the latest cute stories! Sarah also loves traveling and outdoors-ing in her free time – she spent a week in Big Bend National Park this May, which involved lots of roadrunner and ocotillo sightings.