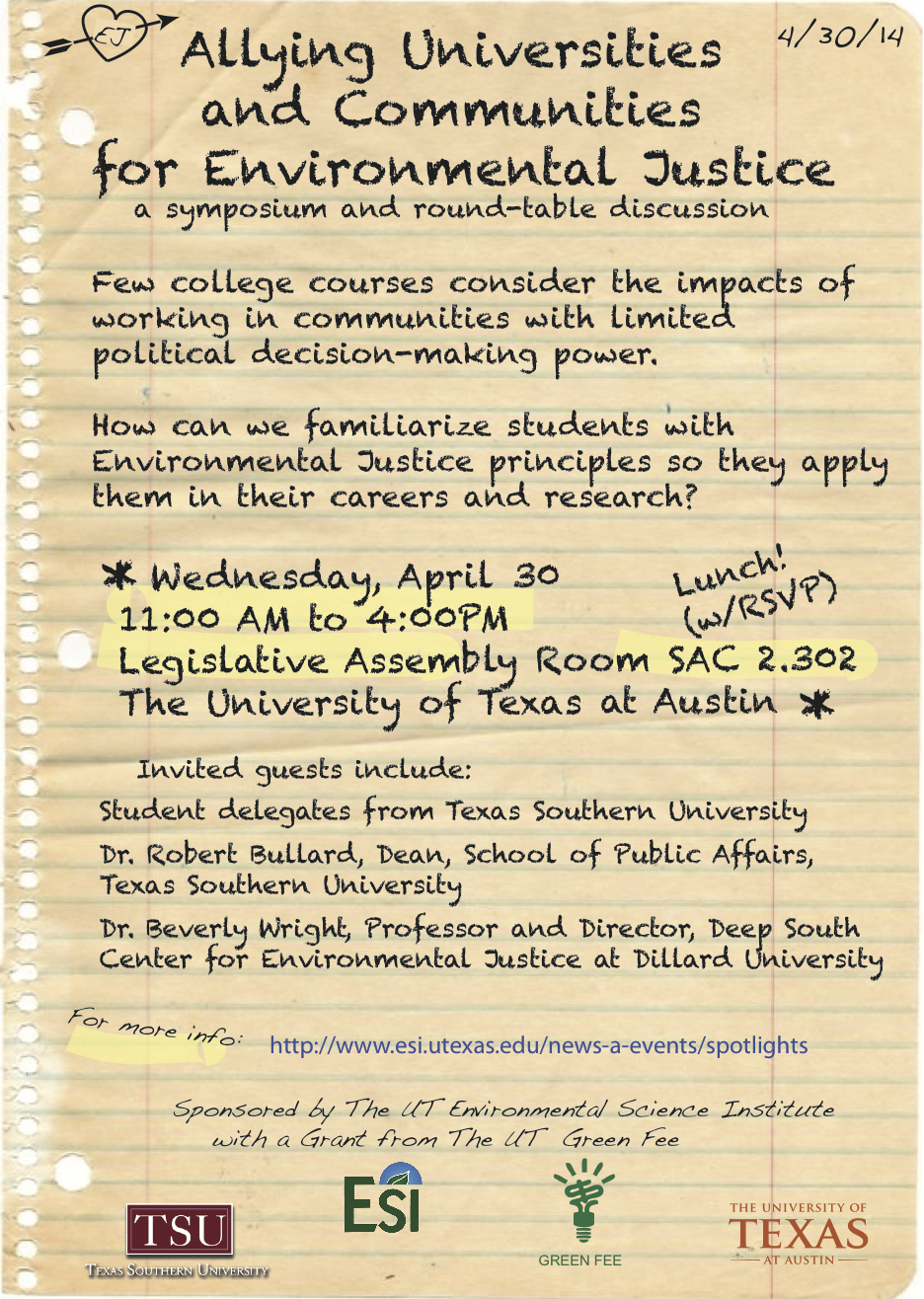 Click to download a pdf copy of this flyer
Allying Universities and Communities for Environmental Justice
The UT Environmental Science Institute and the Barbara Jordan-Mickey Leland School of Public Affairs at Texas Southern University are collaborating to present a symposium and round-table discussion on integrating Environmental Justice themes into college education.
When:  Wednesday, April 30   11:00 AM to 4:00PM
Where:  Student Activity Center (SAC) Room 2.302, Legislative Assembly Room

The University of Texas at Austin
We want to find ways to educate students, especially in the sciences, engineering, and other research-based disciplines, about how their work affects the communities that they work in.  Ignoring the impacts of research or commercial projects in a community diminishes benefits to both the neighborhood and the project.  The impact is substantially worse on communities with limited political decision-making power.  Students should learn how to cooperate and collaborate within a community to gain benefits for all stakeholders. This seminar asks the basic question:
How can we familiarize students with Environmental Justice principles so they apply them in their careers and research?
The Student Activities Center is on the East Mall. Note that there is no free parking on campus. The nearest parking garage is the San Jacinto Garage. A detailed map of campus and parking is available online.
Lunch will be provided for those who RSVP to ewjames@esi.utexas.edu
This symposium is supported by a grant from the UT Green Fee
Featured speakers: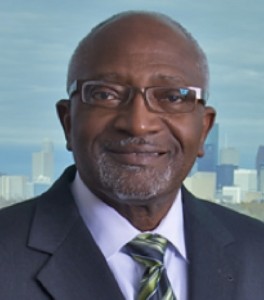 Dr. Robert Bullard is Dean of the Barbara Jordan-Mickey Leland School of Public Affairs at Texas Southern University. Prior to coming to TSU he was founding Director of the Environmental Justice Resource Center at Clark Atlanta University. He received his Ph.D. from Iowa State University.  He is the author of eighteen books that address sustainable development, environmental racism, urban land use, industrial facility siting, community reinvestment, housing, transportation, climate justice, emergency response, smart growth, and regional equity.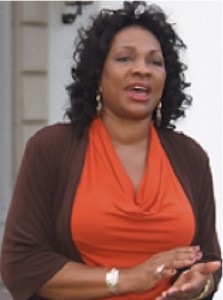 Dr. Beverly Wright is a professor of Sociology and the founding director of the Deep South Center for Environmental Justice (DSCEJ), currently at Dillard University in New Orleans. She has been a leading scholar and advocate in the environmental justice arena. Since Hurricane Katrina, the DSCEJ has focused on research, policy, and community outreach, assistance, and education of displaced African-American residents of New Orleans. She also currently co-chairs the Environmental Justice Climate Change Initiative, is a member of the Commission Delegation to the U.N. Conference on Climate Change (COP15 and 16).