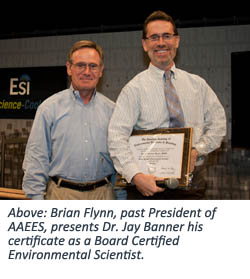 Dr. Jay Banner, director of the Environmental Science Institute and principal instructor for the EVS Program's Introductory Field Seminar in Environmental Science and Sustainability, has been approved for membership in the American Academy of Environmental Engineers and Scientists (AAEES) and for Certification by Eminence as the first Board Certified Environmental Scientist (BCES) in the April 2012 inaugural class. In December 2011, the AAEES approved the separate and new environmental scientist certification and voted to change the Academy's name to AAEES."The Academy has been certifying environmental engineers since 1955. We are truly excited to offer this parallel certification for environmental scientists," said past President Brian P. Flynn. "Most significant environmental projects involve interdisciplinary teams of environmental engineers and environmental scientists. The certification of environmental scientists provides assurance to employers and the public that those professionals have demonstrated a high level of competency in their practice, just like certified environmental engineers.
 "When asked about his new status as the Academy's first Board Certified Environmental Scientist, Dr. Banner exclaimed "This is a very cool honor.  I am excited that the Academy has expanded to include environmental scientists among its professionals."  Dr. Banner added "This is a big step forward as we train new professionals to meet the environmental challenges of the 21st century."
The BCES will have the same time in service, responsible charge, and examination requirements as the Academy's other certifications. The BCES will confer a specialty certification, and possible specialties include groundwater, ecology, water and wastewater, sustainability, environmental toxicology and environmental chemistry. For more information on the new certification contact AAEES. EVS Students interested in becoming a student member of the AAEES should check out this page or contact evs@esi.utexas.edu for more information.