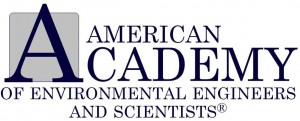 The American Academy of Environmental Engineers and Scientists announced in 2012 that it is adding a Board Certification for Environmental Scientists (BCES) to its accreditations. The BCES will have the same time in service / responsible charge and examination requirements as the Academy's other certifications.
The BCES will confer a specialty certification, and possible specialties include groundwater, ecology, water and wastewater, sustainability, environmental toxicology, and environmental chemistry.
The Academy administered the first set of examinations in 2013. And although they will not qualify to apply for BCES certification until they have gained the work experience outlined, the Academy is welcoming those pursuing degrees in environmental science – including those in UT's EVS Program – to join as student members.
Read more about the new BCES in Environmental Engineer (Winter 2012), Visit the website at http://www.aaees.org/ for more information on the Academy, or check out How Do I Become Board Certified in Environmental Science?