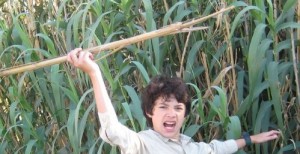 Commander Ben is, in his own words, an "Invasive Hunter." But he's more than that.  He's an enemy to invasive plant species across Texas, and an inspiration to environmentalists of all ages!
Since May 2011, Commander Ben has educating kids (of all ages) about invasive species through his blog at www.commanderben.com.  By using photos, videos, intelligence, and a sense of humor, Commander Ben teaches visitors about the types of invasive species that threaten Texas landscapes while also documenting his own battles against invasives.  With videos titled "Titanic Struggle with Chinese Privet Ends with their Doom" and "Tea Time with English Ivy" (with "Bonus: English subtitles for British words included!") Commander Ben brings fun to the process, reminding us all that taking care of our environment can be an adventure worth taking!
Commander Ben will be bringing his unique perspective to the 2011 Texas Invasive Plant and Pest Conference at the Lady Bird Johnson Wildflower Center in November.  His talk will be titled "Origin of an invasive hunter: Educating kids of all ages about invasives."
Of course, any Invasive Hunter operating in Central Texas knows how to keep up to date on the latest science:  the Hot Science – Cool Talks Outreach Series.  The final event of 2011 will take place on December 2nd in Welch Hall, and will feature Dr. Christopher Kirk, physical anthropologist with UT's Department of Anthropology.  Who knows, if you attend you just might spot a celebrity Invasive Hunter while you're there!