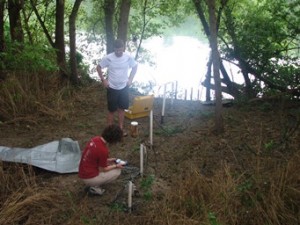 Over the course of ten summer weeks, in the summers of 2009-2011, teachers got back in touch with their own research roots through ESI's Research Experience for Teachers (RET) program, sponsored by the National Science Foundation. The program ran from the first week in June to the first week in August, and stressed the connections between scientific and policy fields related to the environment in the area of Global Change and explored the importance of an interdisciplinary approach to Global Change issues.
Participants were mentored by leading UT faculty to conduct their own research project, and received a stipend and professional development credit for their participation in the program.
Below is a list of the engaging field adventures that were part of this program:
Pickle Research Campus with Dr. Joel Johnson – participants learned about the research being conducted by Dr. Johnson and Shannon Boesch on how sediment gets transported in a tsunami. The tsunami research ensnared the attention of participants and sparked their curiosity.
Hornsby Bend Biosolids Management Plant with Dr. Mary Jo Kirisits, Dr. Kevin Anderson, and Dr. David Greene – The outing began with an informative and candid lecture on nutrient cycling, human waste, and the processes that occur at Hornsby Bend, a zero-waste facility. After the talk, the group took a walking tour of Hornsby Bend to view the long stretches of compost, the treatment ponds, farming areas, and the digester. Hornsby Bend is kept open to the public, which creates a positive relationship with the community and an opportunity to educate the community about waste and biodiversity.
The University of Texas at Austin Marine Science Institute with Dr. Jim McClelland – participants opened their eyes to some of the many complex interactions that occur on the coast of the Gulf of Mexico. The group joined a naturalist aboard UT-Austin's R/V Katy for a hands-on look at marine life. Notable observations included a parasitic isopod feasting on a fish's gills and a male hardhead catfish with fertilized eggs in his mouth. Then, Dr. McClelland took the group on a jetty walk, sharing information on water quality and quanity, and the effects of climate change on coastal environments. Participants found this to be one of the best outings of the summer, both for educational purposes and as a bonding experience. As one participant explained, "there's really no better way to promote bonding than putting everyone together on an island, making them sleep in one big room, and only giving them one key to the building."
Texas State Aquarium – participants took a behind-the-scenes tour where they saw the aquarium's filtration systems, new baby animals, and learned how the animals are fed and cared for. They attended a dolphin show, saw a variety of exhibits, and touched urchins and stingrays!
Lunch and Learn at UT-Austin with Dr. Dan Breecker – participants learned about soils and global change. Dr. Breecker discussed his research into past climates using carbonate found in paleosols (fossilized soils that were buried millions of years ago) and vertisols (soils with high clay content that swell or crack depending on moisture content). Vertisols have large changes in soil CO2 concentration, whereas other soils do not since vertisols crack in dry conditions creating vents for CO2 to easily escape.
Research Ethics Discussion with Dr. Eric James – participants were introduced to the practical aspects of research ethics in a discussion centered around the many considerations required when a study works with human subjects. Participants learned that the keys to researching within isolated populations are a respect for a population's traditions, laws, and ways of thinking, and an understanding of why the population is isolated. The discussion also stressed the importance of record keeping – an essential aspect of all scientific research.
Brackenridge Field Laboratory with Dr. Robert Plowes – participants learned about the invasive fire ant, Solenopsis invicta, through collaborative group work. These fire ants were first spotted at BFL in 1981, and in less than a decade invaded the entire field site and now present a significant challenge for Texan environments and commerce. Participants analyzed the preferred habitats (open/grassy canopies vs. closed/wooded ones and in disturbed vs. undisturbed areas) of S. invicta by using hot dog residue to attract the ants to traps set 5-10 meters apart (the typical maximum travel range of ants). After the field work, Dr. Plowes showed participants how researchers at BFL are testing phorid flies as a form of bio-control of the invasive fire ants. The field visit was informative and thought-provoking, and participants left excited about the prospects of introducing biological controls to manage environmental challenges!
Inner Space Cavern with Dr. Jay Banner – participants explored the main trail, stopping periodically to discuss various aspects of cave formation (including how each type of rock was formed) bringing a very real understanding of geology to participants who were generally new to the subject.  Participants stopped in the Discovery Room, where the cave was first discovered by Texas Department of Transportation workers in 1963, then suited up to head off the main trail and learn more about the research taking place at the site. The participants also had the chance to see first-hand just how dark the cavern depths can be as they ended their outing by turning their headlamps off for a moment of silence.