Scientist in Residence Associates are volunteers who give scientific presentations in K-12 classrooms, volunteer as Science Fair judges and create activities for outreach events such as our Hot Science – Cool Talks Outreach Series.
Associates develop and present a twenty-minute presentation related to their scientific research and fields of expertise, and supplement the presentation with a hands-on experience for the students. In these presentations, Associates can address questions such as:
Is there a major discovery that is a building-block of their discipline?
How was this discovery made?
What is the story behind the question that they are researching?
Why did they enter this field of science?
What schooling was required to get where they are now?
What types of careers are available to them?
Prior to entering the classroom, Associates receive specialized training for effective, grade-level appropriate presentations, and all presentations are approved by ESI before they are made available to teachers. If you are interested in having an Associate visit your classroom, please contact outreach@esi.utexas.edu.
2016-2017 Associates
Catalina Cuellar-Gempeler: Ph.D. Candidate in Ecology Evolution and Behavior, Department of Ecology, Evolution, and Behavior, College of Natural Sciences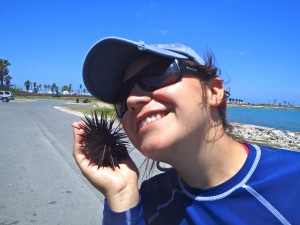 Catalina studies metacommunity drivers of crab-associated microbial communities – in other words, how one community of microbes that live on crabs are affected by changes in other nearby crab-associated microbe communities. Catalina is comfortable working with any age group covering the topics of general biology, marine science, limnology, ecology, microbiology, genetics, and tropical ecology. She has had the opportunity to share her passion for nature through various summer camps in Columbia and through the Scientist in Residence program at the UT Marine Science Institute. These experiences helped her develop a strong set of tools to enhance learning and appreciation of scientific topics. She loves to participate in K-12 school science education. She sees it as a way to develop her skills further and provide students with a unique experience. In her free time, Catalina writes science songs and plays them on the ukulele.
Laura Engelhardt: Ph.D. student in Psychology, Dept. of Psychology, College of Liberal Arts
Laura studies cognitive development, with a focus on executive functions like inhibition and task-switching. She is interested in how genes and the environment shape executive functions across time, as well as how these relationships translate to academic achievement or impairment. Her interest in educational outreach was solidified when she began researching socioeconomic-based disparities in academic achievement. She feels comfortable teaching the basic principles of psychology and neuroscience. Specifically, she could talk about the connection between the brain and senses (geared toward young elementary children), how neurons propagate "messages" throughout the brain, nature vs. nurture debate regarding development (which ties directly to her research), mental illness, etc. She feels very comfortable working with elementary and middle school-aged students, but would also be willing to teach high school students if a teacher had a specific topic in mind. For instance, the neuroscience outreach group she worked with in the past was often asked to lecture on the negative neural effects of recreational drug use. That volunteer experience was incredibly rewarding, as it emphasized how much students stand to gain by supplementary science instruction. Fun fact: she hails from Indiana and has a fair-winning cow named after her!
Caitlin Friesen: Ph.D. student in Ecology, Evolution, and Behavior, Dept. of Integrative Biology, College of Natural Sciences
Caitlin is pursuing her Ph.D. under the supervision of Dr. Molly Cummings. She studies underlying patterns that govern social and reproductive interactions between animals, and how environmental and human-induced changes modify the way animals recognize and choose mates. Caitlin is interested in discussing a wide range of science-based subjects with students of any age group or grade level but is particularly excited about biology. Specifically, she is very interested in topics related to ecology, evolution, animal behavior, physiology, and environmental science. She enjoys sharing her enthusiasm for science with students as a way to encourage more individuals to strive for a better understanding of how the world works, but also as an opportunity to share information about what she's learning in her own studies. When she's not at work, Caitlin loves biking, swimming, and climbing outside.
Juan Pedro (JP) Maestre: Postdoctoral Researcher in Water and Air Quality, Dept. of Civil, Architectural, and Environmental Engineering, Cockrell School of Engineering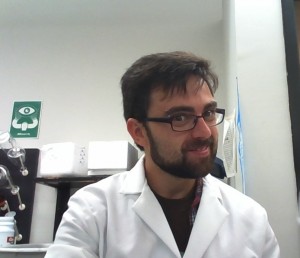 JP (aka Dr. Maestre) studies the microbiome of natural environments as well as of the built environment. He loves teaching about Biology, Environmental Sciences and some areas of Environmental Engineering. He is also comfortable in Microbiology and Molecular Biology topics. He has already participated in science events in elementary schools, enjoying every second of it.  He would love to have more opportunities to interact with younger students and underrepresented young communities to encourage them about studying STEM fields. Gardening is one of his main hobbies, and he takes advantage of weekends to participate in a community garden on the east side of Austin. He does not own a car but loves biking, using public transportation and carpooling!
Hannah Marti: Ph.D. student in Ecology, Evolution, and Behavior, Dept. of Integrative Biology, College of Natural Sciences
Hannah studies the evolution of social organization in ant colonies. She is fascinated by the way that individual ants interact and work together to form a colony in a way that is similar to many cells interacting and working together to form a body. Hannah is excited to share her research as well as general biology and environmental science lessons with middle school and high school students. She hopes to present scientific ideas and her own passion for scientific exploration in a way that encourages students to ask questions and find out more about the way the natural world functions.  Hannah likes to balance her science time by playing rugby, swing dancing, and cooking with her roommates.
 James Proffitt: Ph.D. student in Vertebrate Paleobiology, Dept. of Geosciences, Jackson School of Geosciences
James is comfortable with a wide range of science-based subjects, but primarily those that are biology related.  More specifically, he is interested in evolution, general biology (e.g. cell biology, zoology, botany), anatomy, ecology, and geology-based subjects (including environmental science). He is comfortable with all ages but would prefer to work with 7th grade and up since he would like to gain more experience working with older groups. James sees educational outreach as a chance to share his enthusiasm for learning, particularly scientific learning, with others. He frequently thinks back to the fact that he did not have science classes he was truly invested in or passionate about until college, and how it would have been even more ideal to have had that experience earlier in life. From his perspective, outreach is less a chance to dispense facts and more an opportunity to impart an interest in learning and the natural world. Even if students he interacts with do not go on to become natural scientists per se, he still thinks that having positive educational experiences is good for building student self-esteem and encourages them to develop and pursue their own paths. His drive to become a professional scientist was through small educational experiences like the ones that the Scientist in Residence Associates Program aims to deliver, making the program particularly compelling to him. When not conducting research, James is an avid naturalist and fan of the outdoors – he frequently goes birdwatching and spends time looking for interesting animals and plants. He is also a huge fan of long distance running. Check out James' professional website!
Luke Reding: Ph.D. student in Ecology, Evolution, and Behavior, Dept. of Integrative Biology, College of Natural Sciences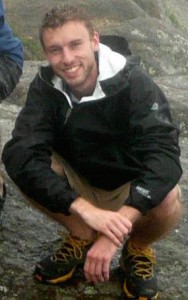 Luke is a third-year Ph.D. student in the Ecology, Evolution, and Behavior program at UT. He studies how females make one of the most important decisions they can make: choosing who to mate with. His research uses several species of fish to investigate the underlying decision-making processes involved in this choice. Luke loved his AP Biology course in high school and is comfortable teaching general biology to middle and high school students, though evolution and animal behavior are his favorite subjects. He is especially interested in communicating science and feels that researchers are in a unique position to educate young people about science and the scientific process. Outside the day job, Luke practices yoga, runs, gardens, and carves linocuts.
Chris Riley: Ph.D. student in Biochemistry, Dept. of Chemistry & Biochemistry, College of Natural Sciences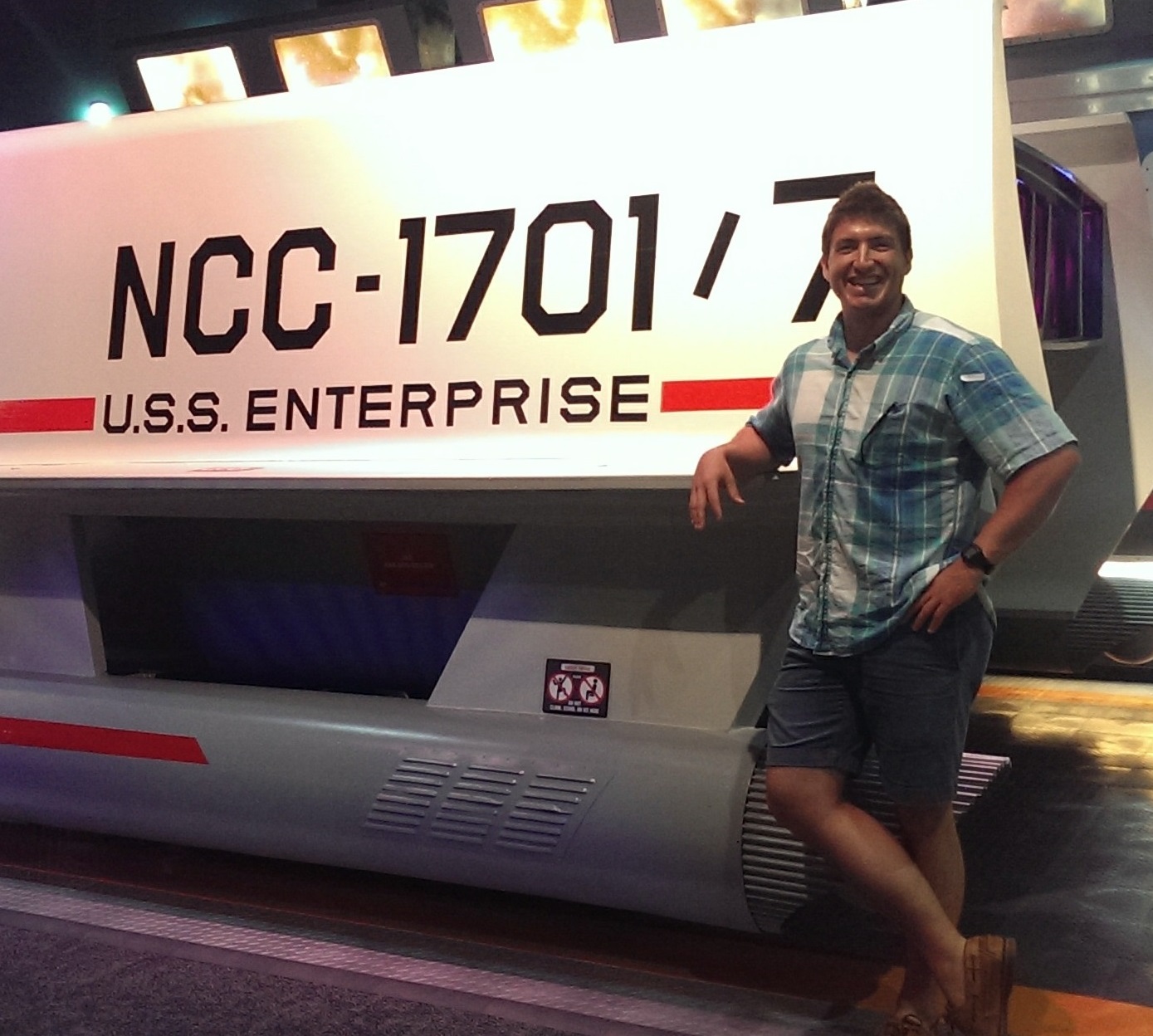 Chris loves science and wants to invest in those impressionable minds that will be his future colleagues. He is excited to work with anyone who has an interest in learning about what is going on in the scientific community. He believes that science is exciting and that it is possible to interest even the most reluctant students in understanding the fundamentals of the universe. Chris' expertise lies with metabolic function, something that is becoming increasingly important as the number of overweight and obese adults and children rises. While his Ph.D. studies focus on mitochondria and their role in obesity and metabolic disease, he is also interested in anything that advances our knowledge of our surroundings. When Chris is not researching, he's trying to do all of the fun things in Austin!
Chad Smith: Postdoctoral Fellow in Evolutionary Biology, Dept. of Integrative Biology, College of Natural Sciences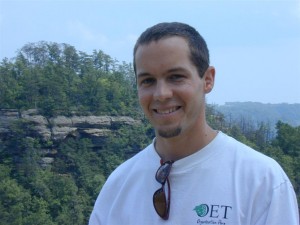 Dr. Chad Smith explores how climate change has influenced the evolution of the symbiosis between the Texas leafcutter ant Atta texana and the fungus it cultivates for food. He also has training as a behavioral ecologist, having worked as a Ph.D. and Masters student on how sexual selection affects the evolution of reproductive physiology and behavior. As a Scientist in Residence Associate, he is excited about sharing his passion for natural history, particularly with respect to how evolutionary biology enriches our understanding of the world around us and its roles in bettering human society. When he's not thinking about ants he likes to spend his free time with his two daughters, eat barbecue, and feed his wanderlust by traveling to exotic places.
Leon Vanstone: Postdoctoral Fellow in Aeronautical Engineering, High-Speed Compressible Flows (rocket aerodynamics), Cockrell School of Engineering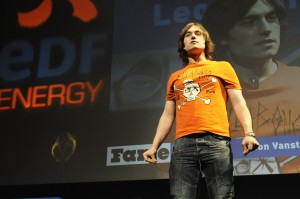 Leon is essentially a rocket scientist, he researches how air flows over things at several miles a second. This really only applies to rockets, re-entry vehicles, a few missiles and a plane or two. He is comfortable talking about a variety of topics including aerospace engineering, physics, chemistry, material sciences, global warming…just ask! When Leon isn't "sciencing" the science, he enjoys talking about it. He believes science communication is important. If you want to inspire children, show them the color of liquid oxygen, show them that a coke bottle will hold 5 atmospheres of pressure before it explodes, show them the DNA from strawberries, or supercritical water freezing right in front of them. Inspire them and encourage them to take part… prove to them they are both capable of doing science and also understanding it. Give children the chance to realize for themselves that they can be scientists. Because textbooks are boring and trigonometry is hard, finding the motivation to keep going can be difficult. In those moments you need to know where it's leading… the things learning can show you… the light at the end of the tunnel. Leon knows that he will never forget the rockets and planes in the Science Museum when he was a child. Just as he won't forget the color of liquid oxygen, it's beautiful, pictures don't do it justice. Fun fact: Leon not only enjoys thinking about planes but also jumping out of them.
Logan West: Ph.D. Student, Department of Geology, Jackson School of Geosciences
Logan is starting work on his Ph.D. in the Jackson School of Geosciences at UT after recently completing his MS here, where he worked with the carbon storage research group (Gulf Coast Carbon Center) at the Bureau of Economic Geology. There, his thesis focused on the regional tectonic and hydrodynamic history of the Permian Basin in West Texas and its influence on Residual Oil Zones, which represent potential locations for CO2 storage via CO2-enhanced oil recovery. Prior to coming to UT, Logan worked on environmental, energy, community and education issues in a variety of roles in Chicago and Beijing, China. Logan is drawn to the Scientist in Residence Program for the opportunity to work in schools and gain experience in communicating science to the public. With a future interest in science in the world of public policy, he feels that if you can convey and impress scientific thought and ideas successfully to grade school students, then you can do the same for the public at large. He is looking forward to teaming up with his teachers and diving into the classrooms. In his spare time, Logan tries to follow through on his love of music, travel, language, sports, and the outdoors.