Megan Davis: Ph.D. Candidate in Microbiology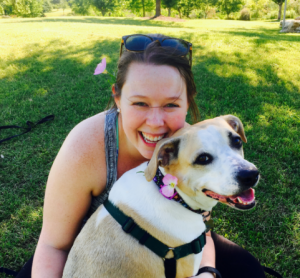 Megan was born in Georgia, she was raised by a microbiologist and a school teacher so her path has taken her right between the two, sharing a love of both lab work and teaching. She earned her undergraduate degree at the University of Georgia where she worked in a wildlife disease lab. She now works in Dr. Vernita Gordon's biophysics lab where she studies the mechanical properties of bacterial biofilms throughout long-term infections and how this affects the ability of the body's immune system to successfully get rid of the infection. Megan is excited to work with young students during the Scientist in Residence program and to start to understand the facets of education beyond the university level. She is also hoping to learn ways to make science engaging so she can share her enthusiasm for science with everyone. She plans on pursuing a career in science policy, aspiring to help bridge the gap between laboratory science and the public. When Megan isn't teaching or in the lab, you can usually find her eating all the food in Austin she can with her wonderful group of friends or gallivanting around the parks and trails of Austin with her beloved dog, Leia.
Margaret Cook: Ph.D. Student in Environmental and Water Resources Engineering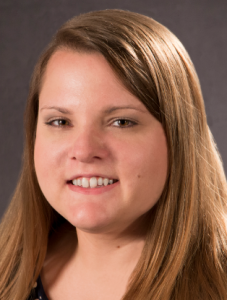 Margaret is from Corpus Christi, Texas and is in her 6th year of graduate school at the University of Texas at Austin. She is a doctoral student studying how we use water to get our energy and some of the engineering and policy solutions that might help us reduce the amount of water we use. Margaret was encouraged by her dad from a very young age to think about science, technology, math, and engineering, including many years of school science fairs and experiments at home (from computers to cooking). Margaret is excited about the Scientist in Residence program because of the opportunity to encourage more students to think about STEM in their lives. When she is not doing research or participating in SciRes, Margaret likes to play music and sports.
Elizabet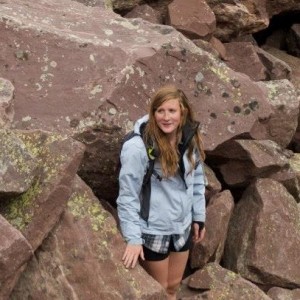 h McKinnon: Masters Student in Structural Evolution of Freshwater Carbonates
Lizzy received a B.S. in Geology and a B.A. in Portuguese from UT Austin and is starting the second year of her master´s research. She is studying the structural evolution of freshwater carbonates with Dr. Randall Marrett at the Jackson School of Geosciences. Her passion for natural science grew during her high school years as a summer camp counselor with the Cibolo Nature Center in Boerne, Texas. As an undergraduate, she worked with Student Engineers Educating Kids to bring hands-on science projects to AISD students during after school programs. She hopes to learn the ins and outs of running a
classroom, planning lessons and effective teaching with SciRes as she hopes to be a primary school teacher after completion of her MS. When she isn´t working on her research, she is exploring Austin on her bicycle or entertaining her cat, Bucket.
Luisa Aebersold: Ph.D. Student in Archaeology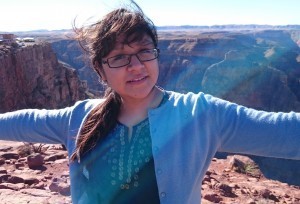 Luisa is an environmental archaeologist studying human impacts on landscapes during the transition to intensive agricultural practices in Mesoamerica during Archaic and Preclassic Maya periods.  She is comfortable teaching archaeology and all things related, specifically soils and plant microfossils!  She can also teach more general topics within geology, hydrology, and ecology, and how they relate to archaeology. Luisa enjoys working with K-12 students as well as Spanish-speaking students.  She loves introducing archaeology and science to younger audiences.  She also enjoys teaching older students that archaeology is more than just digging and can involve exciting analytical science.  Growing up in a Mexican-American home, Luisa feels a sense of responsibility to empower and support young scholars within underrepresented communities.  She is here to reach bilingual communities through education and science.  She thinks that students of all ages have a natural curiosity about the world around them and should be motivated to explore and experiment in order to answer questions.  External to research, Luisa loves Twitter and her two doggies, Kuma and Reno.
Catrina Chitjian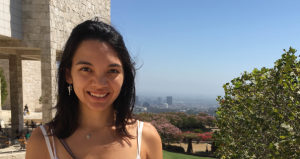 : Ph.D. Student in Molecular Biosciences
I lived in L.A. for most of my life before moving to Austin. I've always been interested in the "why" and "how" questions, so I don't really remember a time where I wasn't interested in STEM. I'm starting my 5th year as a Ph.D. candidate in the Cell & Molecular biology program, though my research deals with more of a medicinal chemistry field. My lab focuses on developing drugs that interact with kinases, which are a type of protein that commonly contributes to disease when they are not behaving properly. My project specifically looks into how tumor microenvironments may influence erratic behavior in eukaryotic elongation factor 2 kinase (eEF-2K) is a kinase, which is useful for developing drug therapies. I first started working in the SciRes program in 2014 as I have an ongoing and growing passion for science education and public outreach. I believe that a stronger foundation in scientific thinking, including outside of scientific fields, is an obtainable goal that has an immeasurable potential to benefit society. Outside of research, I pursue a variety of hobbies including blues and swing dancing, painting, cooking, and developing art for mobile games.
Majo Martinez Pinanez: Masters Student in Energy and Earth Resources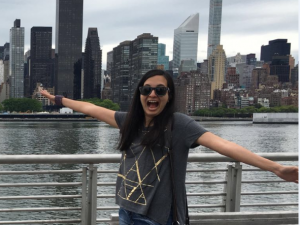 Majo is from Paraguay.  She has a background in Electromechanical Engineering. Her research is about electricity generation and transmission expansion, especially in her country. She is most interested in renewable energy, energy efficiency, and policy. Majo felt in love with science when she was in 3rd grade and she finally understood what rabies was. She felt so smart at the time and it became her favorite subject in school. A long time after that, she went to technical school when she was in High school out of curiosity, and again she felt in love with designing and construing thing. She is interested in the Science of Resident because she likes to share her passion for STEM to others.  When she is not doing school work or her research she likes to read, to binge watch TV shows, and to explore Austin and the USA.
Adrianne Spencer: Ph.D. Student in the Biomedical Engineering Department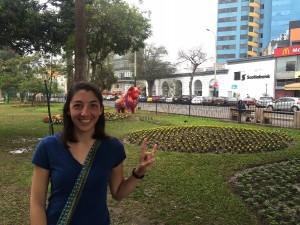 Adrianne is originally from Lexington, Kentucky, where she received her B.S. in chemical engineering from the University of Kentucky. In graduate school, Adrianne is studying how biomechanical forces change a cancer cell's ability to metastasize. Her research focuses on investigating the role of shear stress and mechanical strain in altering cancer cell behavior. During high school, she had two great biology teachers that sparked her love of biology and science! Adrianne is excited to be a part of the Scientist in Residence Program because she has a passion for STEM activities and getting others excited about science and engineering! Outside of the lab, she loves watching college basketball, running, and baking!
Angelina Locker: Ph.D. Student in the Anthropology Department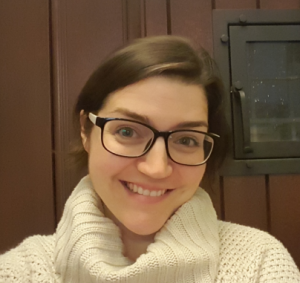 Originally hailing from Milwaukee, WI, Angie completed her B.A. at California State University Long Beach where she worked with her undergraduate advisor as an undergraduate researcher at the Institute for Integrated Research in Materials, Environments, and Society (IIRMES). During her tenure at IIRMES, Angie's love for STEM research increased, so much so, she decided to pursue a graduate degree in archaeology. She is currently in the 4th year of her Ph.D. program in UT-Austin's Department of Anthropology where she studies the migration of the ancient Maya.  Angie is interested in the Scientist in Residence program because she loves working with younger students and talking about science. She hopes to learn as much from her students as they learn from her.  When she is not conducting research, Angie enjoys taking her dogs for adventures, practicing kung fu, watching nerdy TV shows, listening to music, and reading.
Anna Weiss: Ph.D. Can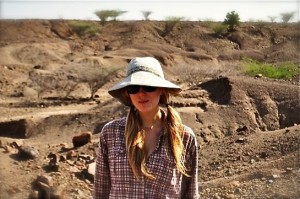 didate in the Jackson School of Geosciences
Anna had known that she wanted to be a paleontologist since she was a little kid in New York, where she spent her weekends wandering the halls of the American Museum of Natural History. Now a third-year Ph.D. candidate in the Jackson School of Geosciences, she studies the ecology of ancient coral reefs and other level-bottom marine communities to assess how they have been impacted by past episodes of climate change. Her research interests are broad and include the consequences of environmental change for biotic communities, the evolution of keystone species, and the use of databases, statistical analyses, and models to solve problems in paleoecology. Anna enjoys being out in the field and has worked in Slovenia, Kenya, and the United States. She knows that not every child has the opportunity to visit a place like the American Museum, but realized that through outreach, she could pay forward the excitement and wonder of the natural world that places like museums offer. She is passionate about science literacy and believes that paleontology is a great tool for getting people excited about science (because who doesn't love dinosaurs?). This passion led her to apply for the Scientist in Residence program, where she hopes to further develop her communication and teaching skills. When not working, Anna can be found making art, paddle boarding, and hanging out with her adopted guinea pig, Buckaroo.
Christopher Torres: Ph.D. Student in the Integrative Biology Department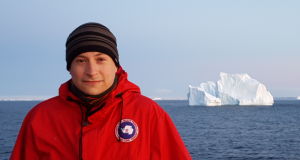 Chris is a third-year Ph.D. student with Drs. Julia Clarke and David Cannatella. He was born and raised in Cary, North Carolina. He did his B.A. in geology at North Carolina State University in Raleigh and his M.S in biology at the University of North Carolina at Wilmington. Currently, in the Ecology, Evolution and Behavior program of the Department of Integrative Biology, Chris is an evolutionary morphologist and paleontologist interested in bird evolution. In particular, he is interested in how and how quickly aspects of the avian skull, including the beak and endocranial cavity, have changed over time. Current projects include using CT scan data to reconstruct, and investigate variation in, the shape of the brain in a number of groups of birds, including flamingos (his first science love), paleognaths (ostriches and relatives) and songbirds. Obsessed with dinosaurs as a kid, Chris' fascination with learning about the modern world by studying its past was rekindled in college when he took a class devoted entirely to dinosaurs. As soon as the class was over, he changed his major from law to geology and the rest was (pre)history. Chris' hobbies include working (he's really hoping no one realizes they are paying him to do what he would do for fun anyway), playing in the dirt looking for fossils, reading, watching movies, running and climbing – basically everything he liked doing as a kid.
 Leigh Lesnick: M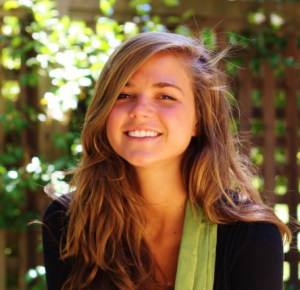 asters Student of Environmental Engineering
Leigh works with Dr. Richard Corsi and Dr. Atila Novoselac on a large field campaign to study the indoor air quality of high school classrooms in central Texas.  As a part of her work on this project, Leigh monitors the concentrations of a variety of pollutants in classrooms and the ventilation systems that supply fresh air to the buildings.  Leigh grew up in Pittsburgh, Pennsylvania and attended Penn State University to obtain her undergraduate degree in Mechanical Engineering.  Prior to attending the University of Texas, Leigh worked as a high school math teacher for three years at Skyline High School in Oakland, California.  In her free time, she enjoys camping and hiking.  She is excited to be a part of the Scientists in Residence program so she can experience the classroom from a different point of view.  Through the program, she is looking forward to improving her communication about her research and motivating students to explore STEM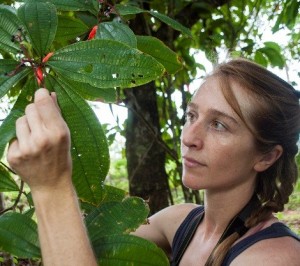 careers.
Megan O'Connell: Ph.D. Student in the Plant Biology Department
Megan studied English Literature at Loyola University of New Orleans and Biology at Oregon State University. With her research, she hopes to better understand how deforestation affects pollinators and the genetic diversity of the plants they pollinate. Through the SciRes program hopes to help more people understand why tropical pollinators and biodiversity are important. She grew up hiking and asking lots of question about nature, but she tried lots of different career tracks before her studies eventually led her to Biology and Ecology. When she's not doing research, she likes to ride her bike to local swim spots, to take pictures, and to make short documentaries.
 Rachel B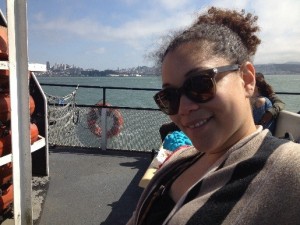 ernard: Ph.D. student in the Jackson School of Geosciences
Rachel conducts research with her advisor, Dr. Whitney Behr, studying rocks that are carried up from the Earth's mantle through volcanic eruptions. Before discovering her love of rocks and minerals, Rachel earned a B.S.E. in Civil and Environmental Engineering from Princeton University and worked as a field engineer on offshore oil and gas rigs in the Gulf of Mexico. Rachel is excited to participate in the Scientist in Residence program and work with Austin-area teachers to create engaging science and math activities for students. Rachel is also a student in the UT Museum Studies Portfolio Program and in the future hopes to work at a natural history or science museum. When she's not looking at rocks under a microscope or in a museum, Rachel shamelessly watches both good and bad television and naps with her dog.
Samantha Kraus: Ph.D. Candidate in the Geography and the Environment Department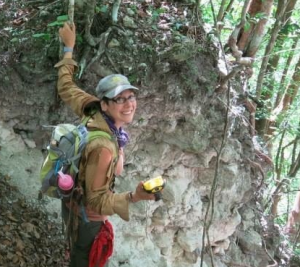 Sam holds a B.S. in Geology from the University of Mary Washington in Virginia and an M.S. in Geographic Information Science from Florida State University. Sam works with Dr. Tim Beach and Dr. Sheryl Luzzadder-Beach here at UT Austin. She focuses on soils, paleoenvironments, and geoarchaeology of the American Southwest and Tropics for her research. Sam employs a variety of techniques in her research, from large-scale remote sensing datasets like LIDAR to microscopic chemical changes within soil sequences. Prior to the start of her Ph.D., Sam worked as a contract archaeologist in New Mexico, Arizona, and Texas. Sam loves camping and backpacking, trivia, cats, comics, and is thrilled to be a part of the SciRes program!
 Alex Bean: Ph.D. Student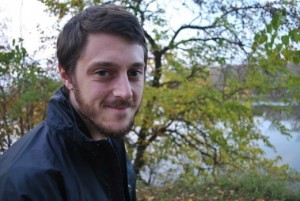 in Molecular Biology
Alex came from Rockford, IL to study molecular biology. His research mostly deals with the question: "why are beets red?" Alex uses genetics to try to learn more about the evolution of this interesting pigment pathway. He's always enjoyed science but chose research over medicine after experiencing some field work in the Amazon. Alex has pursued the Scientist in Residence program because he loves getting other people excited about learning. When not working or participating in SciRes, he goes hiking with his wife and son.