Resources for K-12 informal educators and teachers on groundwater: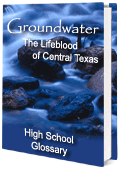 Discover lesson plans about a variety of subjects related to groundwater, pollution, acid rain, water and the water cycle for K-12 students.
Overview maps of major and minor aquifers in Texas. Detailed maps of all major aquifers. Groundwater pumpage, usage and Texas Regional water planning areas.
Printable crossword and word search puzzles. Quizzes on groundwater, conservation and effects. Glossaries for elementary, middle school and high school.
Videos providing additional information about the effects of groundwater on roads, the relationship between groundwater and the atmosphere, contamination and public policy.
---


Through UT's former UTOPIA program, ESI developed this groundwater resource. We hope you find it useful!