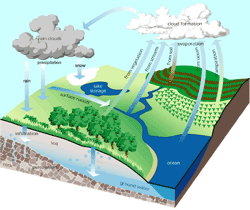 Explore Hydrogeology through the following resources:
What is the hydrologic cycle? Learn how the importance of the hydrologic cycle on groundwater.
Discover the different parts of an aquifer and types of aquifers available.
What are groundwater flowpaths, its directions and rate of flow?
Learn how groundwater affects a variety of geological processes including solute and heat transport.
What are the different types of wells? How does potentiometric pressure affect water levels in wells.
---

Through UT's former UTOPIA program, ESI developed this groundwater resource. We hope you find it useful!