What is an Aquifer?
An aquifer is a body of rock that can store and transmit significant quantities of water (Gunn, 2004). Rocks vary in the way they store water according to their porosity and permeability. Porosity is the percentage of open space in a rock or surface material. Permeability is a measure of a material's ability to transmit fluids. If the pores are very small or if they are not connected to form a channel, the material will have a low primary permeability. If the material is fractured (broken) the permeability will be increased. A sandstone aquifer, for instance, acts like a sponge, and water slowly seeps between the grains of sand at a rate of inches per day. A karst aquifer, on the other hand, stores water in fractures, conduits, and cavities (Fig. 1) and can transport water up to miles per day!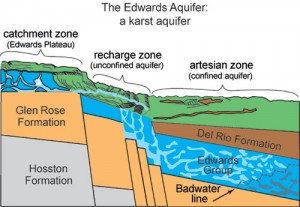 The Edwards Aquifer
The Edwards Aquifer is a karst aquifer. It covers an area of approximately 4000 square miles stretching from Rio Grande River, near Del Rio, to the town of Salado in Bell County, Figure 2 (USGS, 2004).
On the surface the Edwards Aquifer is comprised of three areas: the catchment, recharge, and artesian zones. The catchment zone collects rainfall and directs it to the recharge zone. Surface runoff enters the Edwards Limestone through fractures, sinkholes, and sinking streams within the recharge zone. This area is considered an unconfined aquifer because water can enter and exit freely. The artesian zone is a confined section of the aquifer. The Del Rio Clay acts as a barrier, holding water in and preventing further recharge. In some places in this zone, groundwater is under pressure and is released in artesian springs.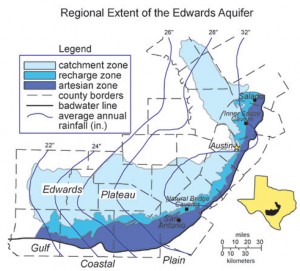 Threats to the Edwards Aquifer
There are two main threats to the Edwards Aquifer: pollution and extraction. Urbanization concentrates pollution by collecting pollutants on impervious, or impenetrable, surfaces. Rain within the catchment and recharge zones washes pollutants into karst features and directly into the aquifer (Mahler, 2004). Second, with increased population comes a higher demand for water. If the amount of extraction exceeds the amount of recharge, the water level within the aquifer will fall. If this occurs over a long period of time, the water table in the aquifer could be lowered substantially making existing wells unproductive, or allowing an influx of "bad" or saline water (Hovorka, 1998).
The Edwards Aquifer is home to over 15 endangered species and serves as a main water supply for 2 million people (Sharp and Banner, 1997). It is essential for life in central Texas. Water conservation and contaminant transport regulation have become an essential part of protecting our aquifer.
---
Gunn, J., 2004, Encyclopedia of Caves and Karst Science. New York: Fitzroy Dearborn, 902p.
Hovorka, S.D., Mace, R.E. and Collins, E.W., 1998, Permeability structure of the Edwards Aquifer, south Texas:
implications for aquifer management. Bureau of Economic Geology, Report of Investigations, 250.
Mahler, B., 2004, What's in the Water? The History and Future of Barton Springs. Hot Science – Cool Talks #31.
Musgrove, M., 2000, Temporal Links Between Climate and Hydrology: Insights from Central Texas Cave Deposits and
Groundwater, unpublished Ph.D. Dissertation, University of Texas, Austin, TX, 432p.
Brown, D. S., Petri, B. L., and Nalley, G. M., 1992, Compilation of Hydrologic Data for the Edwards Aquifer, San Antonio
Area, Texas, 1991, with 1934-91 Summary, Edwards Underground Water District Bulletin 51, 169p.
Burchett, C. R., Rettman, P. L., and Boning, C. W., 1986, The Edwards Aquifer – Extremely Productive, But. A Sole-Source
Water Supply for San Antonio and Surrounding Counties in South-Central Texas, U. S. Geological Survey and
Edwards Underground Water District, San Antonio, TX, 38p.
Larkin, T. J., and Bomar, G. W., 1983, Climatic Atlas of Texas, Texas Department of Water Resources, Austin, TX, 151p.
Sharp, J.M., Banner, J.L., 1997, The Edwards Aquifer: a resource in conflict, GSA Today, v. 7 (8), p. 1-9.
USGS Water Cycle website, Edwards-Trinity aquifer system text: http://capp.water.usgs.gov/gwa/ch_e/E-text8.html,
last visited 9/30/04.
---


Through UT's former UTOPIA program, ESI developed this cave resource. We hope you find it useful!