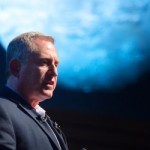 Hot Science – Cool Talks are streamed live so everyone can be part of the excitement of this nationally-recognized speaker series! The live webcast includes an interactive Q&A. To participate, just click on the "View Webcast" button for each event's page to view either a live or an archived talk.
Hot Science – Cool Talks can also help organizations organize viewing events so schools, afterschool programs, community groups, community colleges, universities and professional organizations outside of Austin can watch renowned science, technology, engineering and math professionals present their research.
Hot Science – Cool Talks provides the following support for viewing events:
Ideas for pre-talk hands-on activities relevant to the topic.
Real-time Q & A via live webcast between your group and the event speaker.
Publicity support, such as promotional graphics to help you publicize your event.
If you are interested in hosting your a viewing event for an upcoming Hot Science – Cool Talks, please contact us at outreach@esi.utexas.edu for more information!