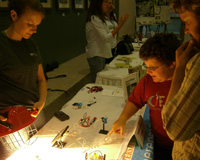 Hot Science – Cool Talks have interactive community science fairs before every talk. Filled with interactive displays and engaging activities geared toward the lecture subject, they are something the whole family can enjoy. The interactive fairs are also an excellent networking venue for organizations across all science disciplines, as well as private and public sector entities who wish to expand the reach and awareness of their programs.
ESI offers the following amenities to organizations, groups, and individuals that participate:
Free tabling and exhibition space for displays and activities (see our YouTube video).
Access to electricity and loading dock: We provide support for displays that require electrical power and can assist with load-in.
Reserved auditorium seating for talks: Our talks often fill the auditorium to capacity. We offer reserved seating for fair participants.
Discounted Parking is provided for UT garages. Participants can validate their parking cards at the discounted rate of $3 at the event venue.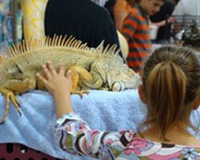 Fair participation timeframe and details:
Participant check-in and set-up:  5:15 p.m.
Fair begins: 5:45 p.m. Fair ends: 7:00 p.m.
Lecture starts at 7:00 p.m., with reserved seating for fair participants. It is recommended that participants begin closing down their displays at 6:45 p.m. Participant displays and tables are supervised by an ESI staff member during the lecture.
8:15 p.m. Lecture ends, fair participants can break down their displays (if they have not done so previously).
YouTube Video: Interactive Community Science Fairs entertain everyone before the talk at every Hot Science – Cool Talks event!