by Dr. Robert Bullard
Dean, Barbara Jordan-Mickey Leland School of Public Affairs
Texas Southern University
What is the Lecture About?
Hurricane Katrina provided a startling reminder that environmental health threats such as pollution and climate change disproportionately affect historically disadvantaged communities in our society. Some progress has been made in environmental law and governance, policy and planning in the United States, yet major work lies ahead in order to eliminate disparities and achieve the goal of global health and sustainability. Dr. Bullard will present an insightful account of events, individuals, and organizations that have shaped the environmental justice movement over the past two decades.  He will also describe a framework for how major advances in environmental justice can and should be achieved. Sponsored by UT's Green Fee and Division of Diversity and Community Engagement.
Presenter's Biosketch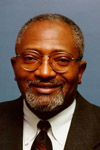 Robert Bullard is the Dean of the Barbara Jordan-Mickey Leland School of Public Affairs at Texas Southern University in Houston, Texas.  Professor Bullard received his Ph.D. degree from Iowa State University. He is the author of seventeen books that address sustainable development, environmental racism, urban land use, industrial facility siting, community reinvestment, housing, transportation, climate justice, emergency response, smart growth, and regional equity. Professor Bullard was featured in the July 2007 CNN People You Should Know, Bullard: Green Issue is Black and White. In 2008, Newsweek named him one of 13 Environmental Leaders of the Century.  And that same year, Co-op America honored him with its Building Economic Alternatives Award (BEA). In 2010, The Grio named him one of the "100 Black History Makers in the Making" and Planet Harmony named him one of Ten "African American Green Heroes."  And in 2012, he was featured in Welcomebooks Everyday Heroes: 50 Americans Changing the World One Nonprofit at a Time by Katrina Fried.
Location:
Schedule: Thursday, April 4, 2013
Directions:
UT Campus, Student Activity Center (SAC)
5:45-7pm: Pre-lecture Fair
7-8:15pm: Lecture
The Student Activity Center (SAC) is located on UT's Campus at 2201 Speedway, Austin TX.