Explore the evening's topic through hands-on activities and information prior to each talk. Cool Activities are also an excellent networking venue for organizations across all science, technology, engineering and math disciplines, as well as private and public sector entities who wish to expand the reach and awareness of their programs.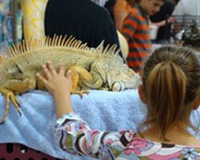 ESI offers the following amenities to organizations, groups, and individuals that participate:
Free tabling and exhibition space for displays and activities.
Access to electricity: We provide support for displays that require electrical power and can assist with load-in.
Seating for the talks: Our talks often fill the auditorium to capacity. We offer tickets for the talks for organizations participating.
Discounted Parking is provided for UT garages. Participants can purchase discounted parking for $4 at the event venue.
Participation details:
Organization set-up begins at 5:00 p.m. A small sign to identify your table is provided. We encourage organizations to bring additional signage for their table.
Cool Activities take place is from 5:30 – 6:40 p.m. Each talk may have anywhere from 500 to 1000+ attendees depending on the venue, many of whom will attend Cool Activities. Our audience consists of K-12 students, teachers, parents, university faculty & students and adult learners. We encourage demos, displays and hands-on activities
Talk starts at 7:00 p.m., with seating for Cool Activities volunteers. It is recommended that participants begin closing down their displays at 6:40 p.m. Participant displays and tables are supervised by ESI staff during the talk.
Talk ends at 8:15 p.m. after Q & A (times may vary depending on speaker).
Interested in participating? See a list of our upcoming talks and contact Didey Montoya at didey@austin.utexas.edu for additional details.