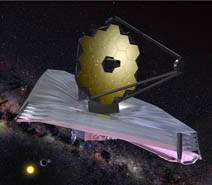 Dr. Jason Kalirai
Astrophysicist
Space Telescope Science Institute
Baltimore, MD 
What's the talk about?
The Hubble space telescope delivered unprecedented scientific discoveries about our universe's past and its very creation, as well as breathtaking images of spiral galaxies.  Now, astronomers are preparing for bold explorations through an $8 billion machine that is over four times as large as Hubble and possesses technological capabilities that are 100 times more powerful:  the James Webb Space Telescope.  Dr. Jason Kalirai is the Deputy Project Scientist for this revolutionary instrument.  He will provide an overview of the stunning discoveries that the Hubble telescope yielded, and outline how the James Webb telescope will build on those discoveries by peering deeper than ever into our universe's past to help us better understand how stars and planets formed.  The James Webb Telescope will also help answer some of the most important questions humanity has ever asked, including whether life exists outside planet earth. This "time machine" will undoubtedly revolutionize our understanding of the universe, and re-write textbooks on astronomy. Co-sponsored by the UT Astronomy Department.
Presenter's Biosketch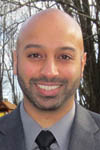 Dr. Jason Kalirai is an award-winning astrophysicist at the Space Telescope Science Institute in Baltimore MD.  His research program is aimed at studying the formation and evolution of stars in nearby galaxies, including our own Milky Way galaxy.  Jason's research is based on establishing new insights on these populations, through ultra-sensitive imaging and spectroscopic observations with the world's best telescopes.  He is a frequent user of the 10-meter Keck Telescope on Mauna Kea in Hawaii, as well as the Hubble Space Telescope in orbit around Earth.  By measuring the detailed properties of these local stars, Jason is able to establish critical dependencies between the stellar characteristics (e.g., mass, age, metallicity) and the output observables (e.g., luminosities and colors).  This astrophysical connection represents an important anchor in our ability to interpret light from the Universe. In addition to his research program, Jason is also the Deputy Project Scientist for the James Webb Space Telescope. Dr. Kalirai was recently awarded the 2013 American Astronomical Society Newton Lacy Pierce Prize in astronomy for his achievements in observational research.

| | |
| --- | --- |
| Schedule: Wednesday, Mar. 6, 2013 | Location: UT Campus |
| 7:00-8:15 PM: Lecture Only (No Community Science Fair) | Student Activity Center (SAC) |
| | |
Directions and Parking
The Student Activity Center (SAC) is located on UT's Campus at 2201 Speedway, Austin TX. Hot Science – Cool Talks attendees may park at San Jacinto Garage (SJG) for a fee.
Websites of Interest
NASA's James Webb Telescope Website
Space Telescope Science Institute Website
NASA's James Webb Telescope Trailer for SXSW: March 2013
NASA's Hubble Telescope Website