Dr. David W. Orr
Professor of Environmental Studies and Politics
Oberlin College
What is the talk about?
'Black Swans' are infrequent and unpredictable events that can drive change in both human and natural systems.  What qualities make societies resilient and sustainable in the face of environmental Black Swans? How can we prepare for, absorb, and recover from the unpredictable disruptions from climate-related ecological change?
In this public lecture, Dr. Orr discusses several promising strategies, including building upon what we already know about sustainable design, construction, and technology to create resilient societies and support systems. Co-sponsored by UT's President's Office of Sustainability, ESI, School of Architecture and Center for Teaching and Learning.
Presenter's Biosketch


Dr. David Orr is one of our generation's leading environmental philosophers and educators. He is the recipient of five honorary degrees and other awards including The Millennium Leadership Award from Global Green, the Bioneers Award, the National Wildlife Federation Leadership Award, a Lyndhurst Prize acknowledging "persons of exceptional moral character, vision, and energy".
Dr. Orr has lectured at hundreds of colleges and universities throughout the U.S. and Europe, and has served as a Trustee for many organizations including the Rocky Mountain Institute and the Aldo Leopold Foundation. He has been a Trustee and/or advisor to ten foundations. His career as a scholar, teacher, writer, speaker, and entrepreneur spans fields as diverse as environment and politics, environmental education, campus greening, green building, ecological design, and climate change. He is the author of six books, including his best-selling 2005 title "Ecological Literacy: Educating Our Children for a Sustainable World"
| | |
| --- | --- |
| Schedule: Friday, Oct. 26, 2012 | Location: UT Campus |
| 5:45-7:00 PM: Community Science Fair | Student Activity Center (SAC) |
| 7:00-8:15 PM: Main Program | Student Activity Center (SAC) |
| | |
Directions and Parking
The Student Activity Center (SAC) is located on UT's Campus at 2201 Speedway, Austin TX.
Online Teacher Professional Development sponsored by the Texas Regional Collaboratives in partnership with Shell.
Event-related Pictures: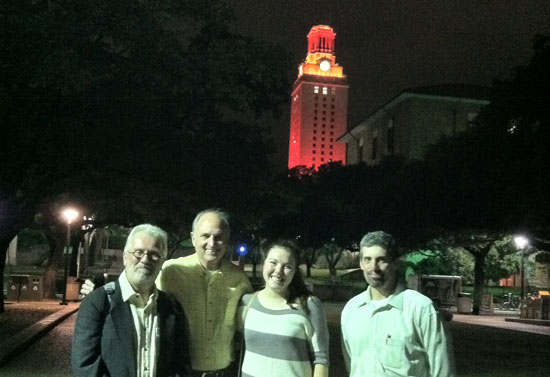 David Orr, UT Professor Steven Moore, EVS major Michelle Camp, and Jim Walker after Dr. Orr's Hot Science Cool Talks event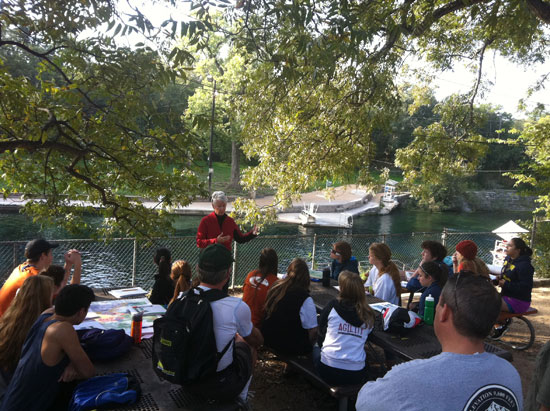 Brigid Shea, leader of Austin's Save Our Springs Alliance, discusses environmental policy with UGS303 students on Barton Springs field trip, on the 20-year anniversary of the Save Our Springs ordinance.