This innovative program is designed to encourage Hispanic K-12 students to pursue science through engaging events and activities with role models who are thriving in college and STEM (Science, Technology, Engineering, and Math) fields. Mirroring the lively atmosphere of Hot Science – Cool Talks events, the ¡Ciencias! mission is to expand engagement in STEM activities on the UT campus to the underrepresented, Spanish-speaking community of central Texas. In addition, ¡Ciencias! customized bilingual interactive science content is brought directly to our target audience in libraries and community centers in neighborhoods with a significant number of Hispanic patrons. Click on the picture below to watch ¡Ciencias! in action!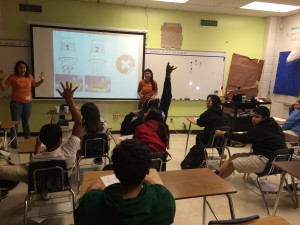 Participating Schools and Communities
Webb Middle School (Breakthrough Austin afterschool program)
Widen Elementary School
Crockett High School
K.I.P.P. Austin Collegiate
Linder Elementary School
Manor New Technology High School
Williams Elementary School
Zavala Elementary School
Community Events
Check out this article from the Austin American-Statesman about ¡Ciencias! 
For more information or bilingual educational materials, please contact program coordinator Natally Mendez at natally@esi.utexas.edu.
 ¡Ciencias! is sponsored by: