Houston, TX
Biology Track, Class of 2017
"I believe everyone is born a scientist," says Alex. "For me, there's something about being out there doing science that draws me to it like a moth to a light bulb."
Having entered the University as a biology major, with aspirations of becoming a doctor, Alex was one of the few non-EVS majors to get a seat in the EVS introductory field seminar. "It wasn't until I took this class that I realized I could actually find a job in environmental science."
Wasting no time, Alex applied and was accepted into the EVS program. "I liked the interdisciplinary focus and the self-driven nature of the program." For instance, "I think rocks are cool, but I couldn't study them all day long. As an EVS bio-track student, I can still take those classes and learn those applications."
Since moving to EVS, Alex has joined the staff of the Environmental Science Institute as a receptionist and begun working in the Office of Sustainability to improve composting in the University Unions. This job has piqued his interest in microbial life. "It's fascinating how something so small can have the largest impact." He is intent on pursuing this interest by joining the Hawkes Lab to study the response of soil microbes to climate change.
After graduating, Alex plans to do his best to never leave school by pursuing a graduate degree, research and lecturing. He would like to expand on the limited body of knowledge on sloths. "There's only two species, they're hard to find and the last significant research was published in the 1970's… and I love sloths." Alex hopes his work will inspire future students and help educate the public. "If I can inspire one student, I've done my job"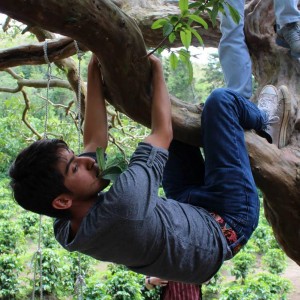 Alex is the recipient of a Presidential Achievement Scholarship and a member of the University Leadership Network.
---
Interested in becoming part of the EVS cohort? Students not yet enrolled at UT-Austin should apply for admission to EVS when they apply to UT. Applications for EVS admission from current UT students are accepted each spring for the following fall. For more information on the EVS Program, please take a look at our frequently asked questions page or just browse this site.