The University of Texas Environmental Science Institute
2016 Summer Research Experience for Undergraduates (REU) in Climate Change Impacts in Semi-Arid Regions
The University of Texas at Austin Environmental Science Institute (ESI) Research Experience for Undergraduates in integrated environmental science gives undergraduate students the opportunity to conduct research into Climate Change Impacts in Semi-Arid Regions. This program is funded by the National Science Foundation.
PROGRAM OVERVIEW
The Environmental Science Institute (ESI) of the University of Texas at Austin announces an NSF-funded program during the summer of 2016 for undergraduates interested in environmental science research. Students will be trained in laboratory and field methods applied to studies of global change and its impacts and will work on independent projects under the supervision of a faculty mentor. Project areas are interdisciplinary and encompass the fields of chemistry, biology, ecology, urban ecology, policy, civil engineering, and geological sciences. Students will participate in a weekly research seminar series, portfolio creation, and professional development activities. Students will also participate in field excursions related to scientific research. These 1-2 day activities may require physical exertion involving hiking, caving, camping, and/or boat rides in hot and humid weather. The summer program will conclude with a research poster session and open house.
Your summer research will be in one of three major themes:
Reconstructing past climatic impacts on hydrologic and soil systems,
Climate impacts on ecosystems, and
Energy-water nexus and infrastructure adaptations.
Each REU student will be part of a separate research group headed by a faculty mentor, but all will come together regularly for cross-cohort seminars and field experiences and to examine and participate in the projects of your colleagues.
Please note that this summer's program is dependent on award and receipt of funds by the University of Texas at Austin from the National Science Foundation.
WHY CONDUCT RESEARCH ON THE CLIMATE CHANGE IMPACTS IN SEMI-ARID REGIONS?
The environmental challenges posed by global change are among the greatest our society faces, and science provides the means to understand the nature and extent of these challenges, including climate change, loss of biodiversity, and threats to water resources and infrastructure systems.  The complex nature of these problems demands that scientists be prepared to analyze these issues from multiple perspectives, integrating knowledge of science, policy, and practice. Addressing these requires an interdisciplinary approach that intertwines geology, hydrology, ecology, and civil and environmental engineering with fields addressing human impacts such as environmental policy, law, and sustainability. An interdisciplinary approach to understanding these global change issues is, thus, an imperative for any successful solution.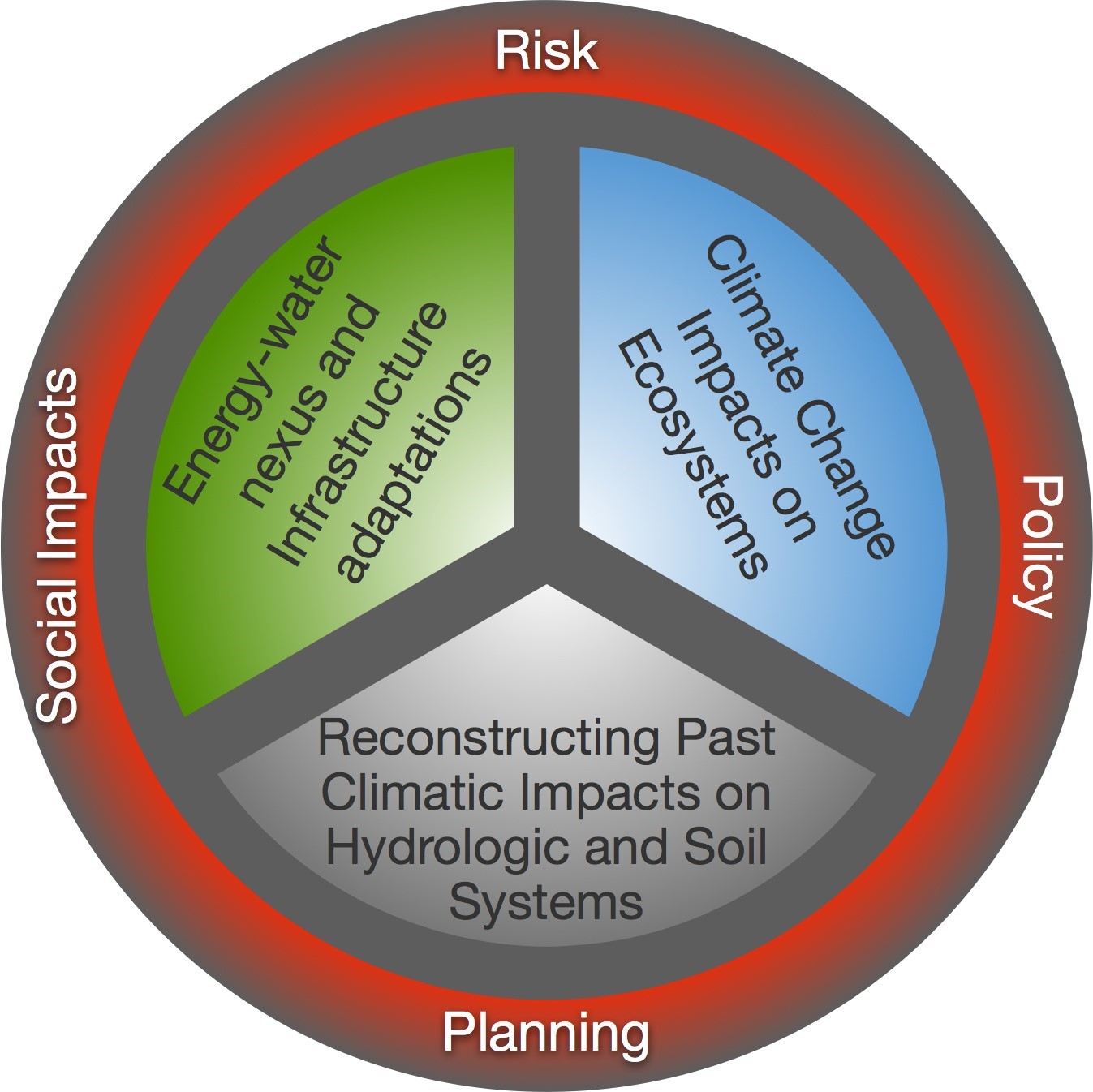 WHY STUDY AT THE UNIVERSITY OF TEXAS AT AUSTIN?
The University of Texas at Austin is home to top faculty and researchers in the area of global change research, and the Environmental Science Institute brings together UT researchers from a variety of disciplines to build connections between scientific and policy fields related to the environment in the area of Global Change, thereby giving REU participants a broad perspective on the state of climate change science and impacts.  This also means that undergraduates in the REU conduct environmental research that cuts across disciplinary boundaries and participants are encouraged to tackle these multidimensional environmental issues with this unique, interdisciplinary perspective.  ESI's REU in Climate Change Impacts in Semi-Arid Regions offers: (1) an engaging research experience, (2) the excitement of scientific inquiry, (3) professional development opportunities, (4) research communication workshops and symposia, and (5) an expanded perspective on graduate school and a career in science.
The city of Austin is a fun and exciting place to visit and to live.  Take a dip in Barton Springs, tour the Texas State Capitol, check out the bats at the Congress Avenue Bridge, spend an evening on Sixth Street or South Congress Avenue, sample some barbecue or Tex-Mex, or get outside at Zilker Park or on the hike and bike trails.  And certainly catch a show in "The Live Music Capital of the World."
PARTICIPANT MENTORSHIP
Students in the program will each work in a faculty-mentored research group.  Research project descriptions for the 2016 program are available online.  You will be prompted for your top three project preferences when you apply.
After the program completion, many previous participants have elected to continue their research beyond the summer, publishing and presenting papers at professional conferences.
SCHEDULE AND SUPPORT
The ten-week 2016 program is expected to begin Friday June 3 and end Wednesday August 10, 2016.  In certain circumstances, students needing to arrive late or leave early due to conflicting academic calendars can be accommodated; please contact us with the specifics of your request.
Click here to view the 2016 REU Calendar.
All students will be housed in a UT dormitory and the costs of the dormitory and meal plan are included in the program.  Each student will be awarded a stipend of approximately $5,000 for the summer, and some travel funds will be available to help defray the cost of traveling to Austin.  Receipt of the full salary amount will be contingent upon completion of the program requirements.
EXPECTATIONS AND PHYSICAL DEMANDS
Program participants are expected to make a full-time commitment to the program, with on average 40 hours per week spent in the field and lab.  Participants are expected to attend all program seminars and events, to complete any assignments in anticipation of and as follow-up to each of these events.
Participants must also be prepared to engage in field work may include (but is certainly not limited to) hiking, caving, camping, and boating.  This field work can occur in extremely hot weather and/or inclement conditions, and can last as long as 1-2 days.
All participants must provide proof of health insurance coverage for the entire duration of the program.  ESI has an additional agreement with University Health Services whereby if you need to visit them, you will be seen in Urgent Care and must be responsible for paying any related fees and follow-up costs yourself.
HOW TO APPLY
Students in their sophomore or junior years of college, with strong credentials and majoring in biology, ecology, geological sciences, civil or environmental engineering, environmental policy, marine science, chemistry, or any other environmentally-related discipline, are encouraged to apply.  Participants must be U.S. citizens or permanent residents.  All coursework must be current and complete.
The application deadline is FEBRUARY 17, 2016, midnight (your local time).
You will need the following items:
-Transcripts:  Your college transcript (an unofficial copy is okay);
-Your Personal Statement
-Letters of Recommendation.  You must arrange to have your two letters of recommendation sent to us directly by your referees as an email attachment to esi@esi.utexas.edu.  These pdf documents must be titled as "Last Name_REU2016.pdf".
Also, have the following information on hand when you apply:
-Expected date of graduation
-GPA (out of 4.0)
-Email address, current mailing address, and permanent address
-Names and email addresses of two faculty members at your undergraduate institution who have agreed to provide a recommendation for you to the program.
Please note that if supplementary material, such as letters of recommendation, are not received within 7 days of the application due date, your application may be removed from consideration.
We look forward to receiving your application! 

FOR MORE INFORMATION
Please check out our frequently asked questions.  For questions not listed, please contact our office at esi@esi.utexas.edu or (512) 471-5847.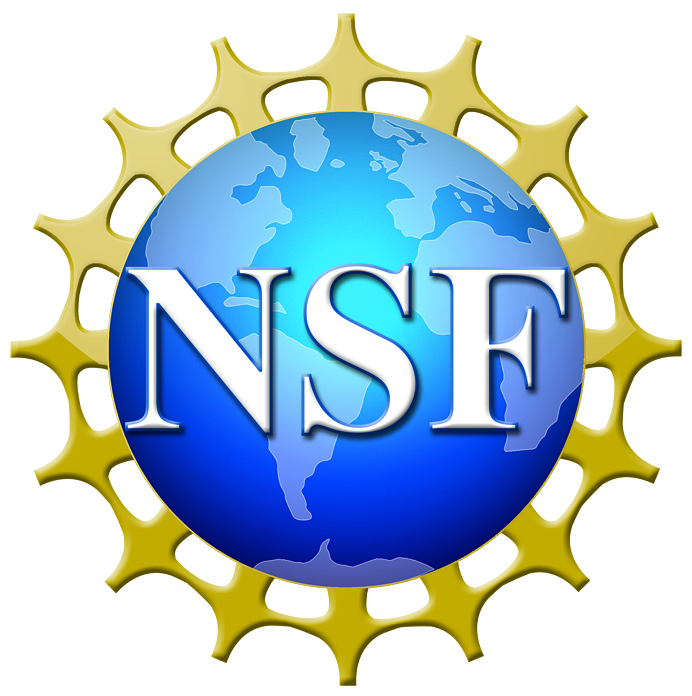 PHOTOS